Wilsons car retail group marketing manager Lauren Michael admitted that the COVID-19 crisis had "pushed its hand" towards ecommerce as the business launched a new sales website.
The Epsom-based franchised retail business, which claims to be the largest family run multi-franchise dealership and used car supermarket in the South of England, has created the new platform in partnership with automotive web design and marketing specialists, 67 Degrees.
Michael admitted that development of the online retail facility was prompted by the COVID-19 coronavirus pandemic, adding that the impact of the crisis had "really pushed our hand in a positive way".
She said: "Up until now, customers had only been able to reserve a car online and then the rest of the process was completed over the phone. Being able to fully transact online is a game-changer for us as a business.
"A key focus for us on top of an ecommerce solution was to ensure that the new site was also fully optimised for mobile.
"We know that 80% of our customers are choosing to view our website via mobile devices, so we wanted to make sure the new site was the best it could possibly be on mobile and tablet – that's been a real priority for us."
Recent research conducted by automotive industry IT services and consultancy NTT Data found that one-in-six people are looking to only use online platforms for future car purchases.
Its findings represent a 500% increase on those that have previously bought a car entirely online.
Wilsons is a franchisee for Abarth, Alfa Romeo, Dacia, Fiat, Hyundai, Jeep, Nissan, Peugeot and Renault, with its sales and service locations all located on Kiln Lane, Epsom, Surrey.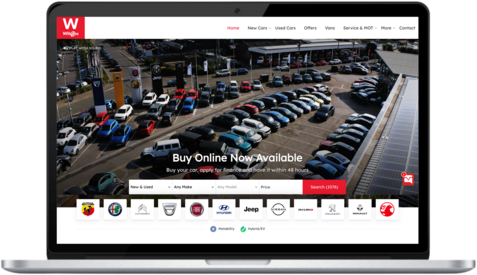 Its new ecommerce platform allows customers the same choice of brands without the need to venture far, mimicking the set-up offered by its physical showroom sites' tight geography.
Explaining the full scope of the new online offering, David Wheatcroft, managing director at Wilsons, said: "These changes are huge for us. Not only can our customers now fully transact online, but they can also apply for finance in private which means that our sales team will only be privy to their application if they've been approved.
"Our new process is the true epitome of buy online, where customers can also take advantage of a 48-hour delivery service. It's going to transform the whole sales process.
"Customers can purchase both used and new cars on our website, which will revolutionise how we operate as a franchise dealer, pushing Wilsons Epsom nationwide."
As well as making the move online, Wilsons is embracing the shift to electric vehicles as it prepares for an influx of new EV products from its franchise partners, including the new Fiat 500 and Hyundai Ioniq 5.
In an approach embodied by that taken at Arnold Clark's new AFV Innovation Centre, in Glasgow, Michael said that Wilson wants to be seen as a source of sound advice on all matters related to electrification.
She said: "We're keen to become an electric vehicle advice showroom for our customers. We understand that people have a lot of questions when it comes to EV to find out if the transition is right for them.
"Many customers want to find out if it's an affordable option, how many miles they can do, or how they would charge the vehicle, so we want to be able to answer their questions without the pressure of them having to buy there and then.
"We're becoming an EV friendly showroom in many ways and have had 25 charging points installed already as well as a supercharger, with more on the way."
Wilsons latest published annual financial results, for the period to December 31, 2019, showed that the group generated an 8.4% increase in revenues to £129.2 million (2018: £119.3m) alongside a 17.6% increase in pre-tax profits, to £1.01m (2018: £860,063).