The team at the Isle of Wight's Esplanade car retail group have expressed their desire to see customers return to their multi-brand showroom as it celebrates a landmark 75th anniversary.
The operation, which has grown from a garage site operated by founder Peter Dorley-Brown back in 1946 to a single franchised location selling Volkswagen, Mercedes-Benz, Smart, Volvo, Ssangyong, Vauxhall and Skoda vehicles, is keen to see the post-lockdown reopening of its showrooms on April 12.
Group sales director David Weston and sales manager Brendan Cole explained said that it was important to have their customers back to mark three-quarters of a century in business alongside their 40-strong workforce.
Weston said: "The whole team at Esplanade are extremely proud to have reached this incredible milestone in the businesses history. Esplanade's success can be attributed to several key factors: expert staff, loyal local customers and premium range of vehicles."
Cole said: "Esplanade may be 75 years old, but we always move with the times. We are looking forward to once again welcoming our customers into our showroom.
"Whilst this last year has been the most challenging in our times, we have worked hard to make sure we have plenty of great stock ready for immediate delivery and are confident that we have a vehicle option suitable for everyone."
Esplanade said that at least 25% had been part of a dramatic push for growth in the past 15 years, with an investment in facilities accelerated following its 2017 acquisition by Jacksons Group.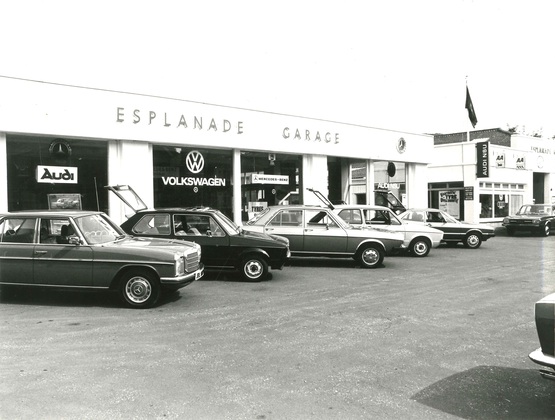 The group was originally founded in 1946 by Peter Dorley-Brown, trading began from premises in George Street, Ryde.
In the 1950s Esplanade acquired land at Medina Avenue, Newport, and built a workshop and showroom.
Over the years this site saw petrol pumps added along with further extensions, whilst the Ryde shop became the top car rental provider on the island.
Acquired by the Jacksons Group in 2017, however, Esplanade grew dramatically after joining forces with branches in the Channel Islands and Isle of Man.
From here it quickly outgrew its Newport premises and with heavy investment from the Jacksons Group, built brand-new state-of-art premises in Cowes.
Moving in April 2018 Esplanade saw a vast expansion in its portfolio of manufacturers and is now home to the largest line-up of franchised car dealerships at a single site on the Isle of Wight, as well as a standalone used car operation.
The group claims to have serviced around 225,000 vehicles and sold approximately 45,000 cars in its 75-year history.