Hendy Group is targeting a July completion date for its new Lotus Cars dealership development in Exeter – the last of three new franchised sites with the performance car brand.
The Hampshire-based AM100 car retail group revealed back in February that it was poised to increase its representation with the Lotus Cars brand with the addition of new dealerships in Hampshire and Devon.
At the time, the Hendy Group website listed two Lotus dealerships, in Poole and Eastleigh, with an Exeter business said to be "coming soon".
Now Warwick-headquartered contractor MCS Group has been appointed to transform part of Hendy's existing Hendy Performance centre in Exeter to create the new retail facility.
Insider media reported that the dealership will also accommodate the sale of other high performance vehicle brands, including Ferrari, Aston Martin, Mercedes, and others.
MCS Group operations director, Andy Hall, said: "Hendy Performance provides sports cars for customers across the UK. As specialists in performance cars, they are keen to have a showroom that does these impressive vehicles justice.
"Our primary projects team will carry out the conversion and fit out of an existing workshop to create an outstanding new facility that Hendy Performance can be proud of. Work is now underway and we expect to reach practical completion in July."
Mark Busby, commercial director of Hendy Group, added: "We are very excited about opening our third Lotus showroom as we begin to grow our presence in this market segment in the South West."
Hendy Group currently operates 24 franchises from 65 locations in the south including a number of performance, premium and sports car brands and added Lotus to its portfolio with the 2019 acquisition of Westover Group.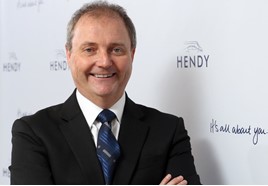 Group chief executive, Paul Hendy, said that that the group's new sports car dealerships would be opening in what was an "exciting time for Lotus".
He said: "The Evora, Elise and Exige ranges are iconic performance cars and we're all eagerly anticipating the unveiling of the Type 131, and production of the Evija – the world's first British all-electric hypercar.
"We're thrilled to be part of a company with such a bright future."
In April, Lotus Cars revealed that the name of the replacement for its Elise sports car will be Emira as it unveiled plans for growth and a new omnichannel retail strategy
Geoff Dowding, executive director, sales and aftersales, Lotus, who discussed Lotus' future plans with AM for an OEM profile feature, said: "We are delighted to be extending our relationship with Hendy in the south and south west.
"Growing our retail network with the right partners is an important step as we transform the Lotus business and brand."