Hendy Group is set to increase its representation with the Lotus Cars brand with the addition of new dealerships in Hampshire and Devon.
The expanding AM100 car retail operation revealed in a statement published this morning (February 16) that locations are currently being finalised for planned sites, which will add to its existing sports car operation in Poole.
However, the Hendy Group website now lists two Lotus dealerships, in Poole and Eastleigh, with an Exeter business said to be "coming soon".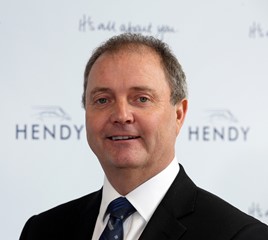 Hendy chief executive, Paul Hendy, said: "While this year has been challenging for the whole automotive sector, we remain committed to building on our strong base and we are delighted to be adding these additional Lotus dealerships to our portfolio."
Hendy Group currently operates 24 franchises from 65 locations in the south including a number of performance, premium and sports car brands and added Lotus to its portfolio with the 2019 acquisition of Westover Group.
Hendy said: "Our Dorset operation is an important part of our Performance Division and we will be looking to repeat this success in Hampshire and in Devon where we already have successful dealerships.
"Lotus is a tremendously exciting manufacturer to be involved with and we are looking forward to working with this iconic British company across the south and south west.
"It's great to be providing the Hendy premium service to more Lotus customers than ever before."
Last month Lotus Cars revealed that it was poised to advance its Vision80 strategy in 2021 with the launch of a new Type 131 sports car to replace its iconic Elise and a move into a new £100m manufacturing facility at its Hethel headquarters.
The Geely-owned Norfolk carmaker confirmed that production of the new model – alongside that of its all-electric, £2m Evija hypercar – would get underway this year as production of its Evora, Exige and Elise models ends.
News of the developments came after recent changes in the OEM's franchised car retail network, with JCT600 relocating its Bradford showroom and Park's of Hamilton announcing the opening of a new Lotus dealership in its hometown.
Paul Hendy said that his new sites would be opening in what was an "exciting time for Lotus".
He added: "The Evora, Elise and Exige ranges are iconic performance cars and we're all eagerly anticipating the unveiling of the Type 131, and production of the Evija – the world's first British all-electric hypercar.
"We're thrilled to be part of a company with such a bright future."
Geoff Dowding, executive director, sales and aftersales, Lotus, who discussed Lotus' future plans with AM for an OEM profile feature, said: "We are delighted to be extending our relationship with Hendy in the south and south west. Growing our retail network with the right partners is an important step as we transform the Lotus business and brand."