In-market car buyers are increasingly likely to choose dealers because they are local, according to Judgservice.
The customer review platform surveyed 169,313 in-market buyers over a three-year period, starting in January 2019, with respondents asked what prompted them to make a visit to a dealership where they had made an enquiry.
In December 2021, one in three (36%) said their visits were prompted by the dealer being local, compared to 22% who ended up on forecourts as a result of finding a vehicle online.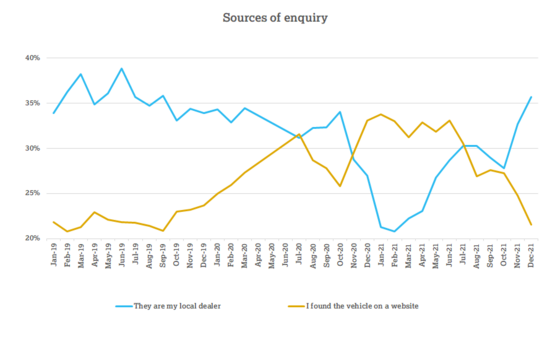 The next most cited reasons were visiting the dealer's website (17%) and having previously had a good experience with the dealer (13%).
A similar study, carried out by What Car? in September, found that three quarters of car buyers were planning to purchase their next vehicle from a local dealer.
84% of respondents said they believed it was important to support their local showrooms and garages.
One-in-10 car buyers are, however, ready to complete their purchase wholly online.
Judgeservice found that buyers were most likely to choose dealers for locality before the Coronavirus lockdowns. Once showrooms were forced to close to customers, online searches became the main prompt for buyers in July 2020 and then for an extended period stretching from November 2020 until July 2021.
"While the pandemic undoubtedly changed the way consumers were able to buy cars online, it's likely this was born out of necessity and is not necessarily the way they want to continue post-lockdown," said Neil Addley, managing director of JudgeService.
The research tracks the increases in buyers prompted by locality following the lifting of each lockdown. Since October this trend has gathered momentum, consistently outperforming online prompted visits.
"Throughout the lockdowns we saw the accelerated delivery of online car buying services from dealers, car supermarkets and the likes of Cinch and Cazoo. While all these services clearly have a place, for most buyers they don't replace the desire to visit their local dealer to view cars in the metal," said Addley.
He is advising dealers that are preparing their marketing activities for 2022 to not underestimate their roles as "local heroes" and plan their budgets accordingly.