The online car retailer Cazoo has revealed it wants to cut costs by £200 million by the end of 2023, which will include around 750 job cuts.
Having grown rapidly through acquisitions since its launch, Cazoo said it will downscale the business to a more sustainable size and aim for profitable growth.
It will cease signing up new business to its new car subscription service, which it launched after acquiring Drover for £65 million in late 2020, from the end of this month.
The listed e-commerce business, once seen as a 'unicorn' by bullish investors as it listed on New York's stock market in a £5bn deal, warned earlier this year that it might never achieve profitability.
Today its statement revealed it will cut some 15% of its workforce and will slow down on hiring new staff as its manages a climate of consumer cutbacks and fears of recession.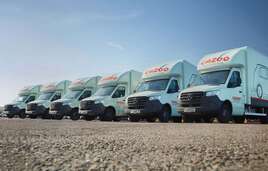 Around 4,000 of its 5,000-strong workforce is based in the UK.
It will also limit capital expenditure, rationalise its vehicle preparation and customer support locations, and rein in its brand marketing spend in favour of performance marketing.
It aims to become self-funding in the UK, without needing further capital, and has its sights set on achieving breakeven here at lower sales volume through stronger focus on gross profit per unit and working capital.
This development with Cazoo comes just days after Carzam, a purely online car retailer founded by Big Motoring World boss Peter Waddell in Cazoo's footsteps, went into voluntary liquidation.
Cazoo, whose chief executive Alex Chesterman founded online firms Zoopla and LoveFilm, said:"The company is not immune to the rapid shift in the global economy and the possibility of a recession in the coming months.
"As a result, management's expectations for the full year are now more cautious, reflecting the weaker and uncertain external environment."
It now forecasts revenues of £1.4 to £1.5 billion in 2022 from retail sales of 70,000-80,000 units and a UK retail GPU of £500-£600.
Inflation, interest rates and supply chain issues are all mounting up, as Chesterman said: "This perfect storm has placed cash conservation top of mind for the company, ahead of growth."
"We have proven that we can buy and sell cars at scale and deliver a market-leading customer experience, but in the current climate we are focused on improving our unit economics which involves making some tough but necessary decisions around our priorities."
In May Cazoo revealed its profit per unit and gross profit had both declined although its revenues continued to increase as it grew he volume of vehicle sales at its operations in the UK, France and Germany.