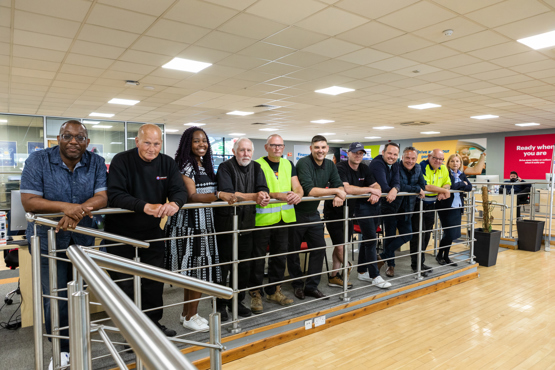 A combined 743 years of service from 40 staff has been recognised by the UK's largest used car supermarket group, Motorpoint.
The employees reached a range of work anniversaries between 15 to 24 years this year, and to help mark their milestones staff were brought together for celebration photographs at various Motorpoint stores including Derby (pictured), Burnley, Glasgow and Newport.
Motorpoint has been focused in recent years on improving employee satisfaction and engagement, including participation and during the event staff shared some of their favourite stories about their best Motorpoint moments in their careers so far.
Ryan Cheyne, Motorpoint's interim chief people officer said: "It's fantastic to be able to share this good news story about our long service employees – it's an amazing total to have reached.
"We were recently named as the Number 1 Automotive Company To Work for by Best Companies and we recognise that our employees are the backbone of our business helping us to build the Motorpoint name to become the largest independent retailer of cars and vans in the UK.
"Some of our staff were with us at the start when our first Motorpoint store in Derby opened in 1998. We are proud of them and recognise that their loyalty and commitment is crucial to our long-term success as we move into our 25th anniversary year in 2023."
In 2020, as the coronavirus pandemic hit the UK, Motorpoint joined most motor retailers in placing staff on furlough and rapidly promoting the support measures in place for staff wellbeing.
Its chief executive Mark Carpenter said at the time that Motorpoint's values of "Proud, Happy, Honest and Supportive" lead its culture and supported its "incredible team spirit", and added: "That does not change just because we find ourselves in challenging times, and we will continue to go above and beyond to support our people."
Motorpoint topped up the furlough pay of staff, and Carpenter temporarily forgoed his salary.
Now head of retail operations for the West Midlands, Kevin Cartwright says that the best thing about working at Motorpoint is the "people."
He said: "From day 1 it's been the people though it's a cliche. From the massive energy and will to win in Burnley, then team Widnes's amazing teamwork and now team West Midlands as we reintroduce the company culture – there are some great characters."
Customer experience marketing manager Edem Ankutse, who has been with Motorpoint for 20 years and began her career as a collections cashier at the Derby store in 2002, reflected on her anniversary: "I have worked across a range of roles at Motorpoint and my favourite thing is the family atmosphere I have felt in every department/store I have worked at. I have made some friends for life working at Motorpoint.
"There's been lots of highlights over the last 20 years, but I think getting my first managerial role in Birmingham then winning an award for that role in 2016 was a wonderful moment for me."
John Hood, now Motorpoint's general manager of trade acquisition, joined the company in 1998 as the manager of Motorpoint Derby. He said: "Since the early days Motorpoint has been forward thinking in its HR approach ensuring that young people coming into the business are able to develop their skills and careers - we have a strong culture of support here at Motorpoint."
Chief commercial officer John Baird has been with Motorpoint for 22 years. He said: "I've met loads of friends (and a wife!) working for Motorpoint, employing people with the same values you share creates that connection.
I've been fortunate enough to work my way through the business from sales to where I am today, this didn't just happen from my desire to be the best (or have the biggest mouth…. which I do) Motorpoint pushed and supported me along the way, I've been on countless training courses both as an individual and part of teams.
"I didn't join Motorpoint because I liked cars or was excellent at sales (which I was), I joined because they were a "rebellion" within the sector, were challenging the short-term thinking and had a strong desire to put customers and employees at the heart of every decision that is made."
Baird said one highlight was the business becoming a PLC in 2016, was a huge achievement and just reward for all the effort and sacrifice put in to the previous 15 years, he said.