Online car retailer Cazoo is battling to reduce its cost base as it announced a £243 million loss from the first half of 2022, more than double its losses in H1 2021.
Its share price slump since flotation to $0.48 currently has given its leadership team an extra headache - Cazoo is breaching New York Stock Exchange rules which require listed companies to maintain an average closing share price of at least £1.00 over a consecutive 30 trading-day period or risk being delisted.
Cazoo's shares have remained below $1.00 since July 14, 2022, except for July 23 when they reached $1.01.
Now its board is preparing to take action to shore up the share price including, if necessary, using a share consolidation which would require shareholders' approval.
It is a further challenge for Cazoo's board, which is steering the company through a cost-cutting exercise aimed at slashing £200m from its cost base by the end of 2023, after its rapid expansion since launch proved unsustainable in the current economic conditions.
It is already leading to job cuts, and the closure of some of its ventures.
Cazoo's statement today shows its revenues have continued to climb, rocketing by 153% to a record £628m in H1 2022, however its gross profit per unit (GPU) worsened to £226 (H1 2021: £315 per unit), which Cazoo said was impacted by its investments in reconditioning and car buying in the latter part of 2021.
The London-based automotive e-commerce firm said demand continues to grow despite a tough economic backdrop, and its sales volume in Q2 this year was 124% up year-on-year at 23,955, with the quarter's GPU at £309 as it finds efficiencies across the business.
Chief financial officer Stephen Morana, who will be replaced by former Mitie Group CFO Paul Woolf by the end of 2022, said the Q2 performance "gives me confidence in our plan to position Cazoo for profitable growth, with a relentless focus on improving unit economics, reducing costs and maximising liquidity."
Morana said the GPU improvements in Q2 lead him to expect "further considerable progress" in H2.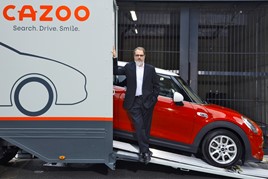 Alex Chesterman OBE, founder and chief executive of Cazoo (pictured), said: "Despite having launched only two and half years ago, we have now sold over 80,000 retail units entirely online, including over 30,000 in the first half of this year and we achieved record revenues in H1 of £628m, up 153% YoY, as consumers continue to embrace the selection, value, transparency and convenience of our proposition.
"Whilst our growth remains very robust, we are laser-focused on maintaining our strong balance sheet, preserving cash and materially reducing the need for further funding as we drive towards profitability.
"We are encouraged by the positive trajectory of our UK retail GPU in Q2, which was up by 150% vs Q1 2022 and we are well positioned to continue this positive momentum in the second half of the year and beyond.
He added that Cazoo's balance sheet remains strong with over £575m of cash and self-financed inventory at the end of June.
"However, given our focus on cash preservation and achieving profitability, we have initiated a full strategic review of our business in mainland Europe, with a view to further reducing cash burn and aiming to ensure that we have an executable plan which materially reduces any further external funding requirement."