Cazoo will begin its UK jobs cuts with the closure of a vehicle preparation centre acquired from SMH Fleet Solutions in September last year.
The Ledbury Reporter newspaper revealed news of the online car retail business' decision to shut the preparation centre in Norton, just days after it revealed plans to axe 15% of its workforce as part of a bid to save £200 million per year in costs.
The facility, on Church Lane, was taken over by Cazoo last year when the firm acquired SMH Fleet Solutions for £39.1m.
It came seven months after Cazoo's acquisition of Smart Fleet Solutions in a deal which equips it with the ability to recondition more than 100,000 used cars each year 'in house'.
Outlining its rationalisation plans earlier this month, Cazoo said that it now aims to become self-funding in the UK, without needing further capital, and has its sights set on achieving breakeven at lower sales volume through stronger focus on gross profit per unit and working capital.
Speaking to the Ledbury Reporter, a Cazoo spokesperson said that the online retailer "no longer currently require the capacity of all 10 vehicle preparation sites we have in the UK".
Earlier this month Cazoo said that its cost-saving measures would see it reduce its marketing costs and cease signing up new business to its new car subscription service – established after acquiring Drover for £65m, Cluno for £60.4m and Swipcar for £23.6m – from the end of this month.
On Friday (June 10) it emerged that Cazoo was also set to lose its high-profile Premier League shirt sponsorship deal with Everton FC.
The listed e-commerce business, once seen as a 'unicorn' by bullish investors as it listed on New York's stock market in a £5bn deal, warned earlier this year that it might never achieve profitability.
Plans to reduce its scale follow a decline in share prices at online-only car retail operations across the globe.
They are also being implemented following the demise of UK market rival Carzam, which entered voluntary receivership earlier this month.
A News Insight feature in the May edition of AM Magazine looked at the declining share prices of online car retailers, reporting a 27.7% decline in the share price of Carmax, 82.8% in Carvana, 80.2% in Cazoo and 61.1% in Auto1, year-to-date, at the time.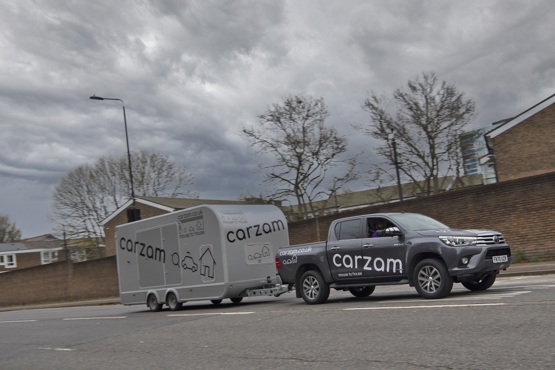 In an interview with The Times, Carzam co-founder Peter Waddell blamed the faltering performance of online-only car retail businesses including Cazoo for the Peterborough-based venture's failure.
Waddell said: "We couldn't get any funding because share prices in Cazoo and Carvana went down 85 per cent.
"Business is all about taking a chance. We tried. It didn't work.
"We didn't get the funding. We walked away. I am focusing on my business, which is Big Motoring World."