Swansway Group's Volkswagen dealership in Wrexham has been awarded the German carmaker's retailer of the year award for 2022.
The Crewe-based AM100 car retail group celebrated success at the Volkswagen UK One Business Awards 2022, with group director John Smyth praising the "consistency and quality" of work from its team at the site on the Welsh town's Rhosddu Industrial Estate, Rhosrobin.
Volkswagen Wrexham's success at the awards, held at the Millbrok Proving Ground, Bedfordshire, marked the fourth time in five years that the dealership had claimed the brand's retailer of the year accolade.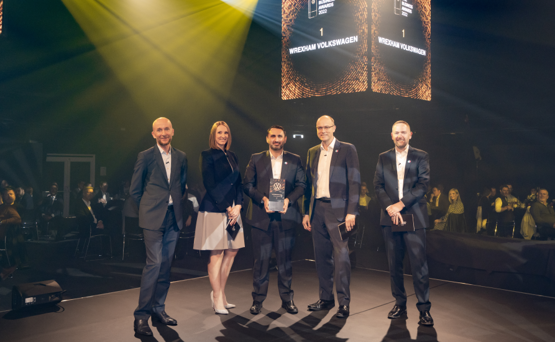 It also succeeded in topping this year's New Car Sales and Used Car Sales categories, with Swansway's Crewe Volkswagen also ranked in the top 10 for the Retailer of the Year category.
Smyth said: "We are delighted by the results, what a fantastic achievement for Swansway and the two retailers. We are proud of the team at Wrexham Volkswagen; these results highlight the consistency and quality of their work."
"For Crewe Volkswagen to once again feature in the top ten for the Retailer of the Year is a brilliant achievement, especially when ranked against 180-plus Volkswagen retailers across the UK.
"Everyone at Swansway would like to send our warmest congratulations to the Wrexham and Crewe Volkswagen teams. Well done all."
Swansway Group will soon revealed its 2022 full-year financial results after a COVID crisis-defying set of record annual financial results in 2021 showed a further 147% surge in pre-tax profits.
Last year the group invested in its VW franchise in 2022 with the creation of a new Volkswagen Commercial Vehicles Van Centre in Oldham.
Among the other category winners at last Thursday's VW awards event were Agnews Belfast (Fleet) and Group 1 Automotive Colchester (Aftersales).
A special award for the highest climber up the German brand's performance scorecard was also handed to Group 1's Dartford dealership.
Volkswagen UK's top 10 2022 scorecard rankings, as revealed on the night, were:
Swansway Wrexham
Heritage Dorchester
Group 1 Southend
Citygate Chalfont
Group 1 Maidstone
Vindis Bedford
Group 1 Lowestoft
Group 1 Colchester
Johnsons Solihull
Swansway Crewe