The Finance and Leasing Association (FLA) has said that the used car finance market looks poised to deliver "record levels of new business" in 2019 as it revealed its results for November.
Reporting on a 1% decline by both volume and value during the penultimate month of last year, the FLA revealed that the used car sector was showing greater strength than the ailing new car market, which ended the year with registrations down 2.4% year-on-year, according to the Society of Motor Manufacturers and Traders (SMMT).
November showed a continuation of the trend in the finance sector, with the number new cars bought through point of sale (POS) finance declining 8% to 62,474 and 1% by value to £1.39 billion.
Used cars funded by POS rose by 3% to 111,049 and 3% by value to £1.39bn, meanwhile.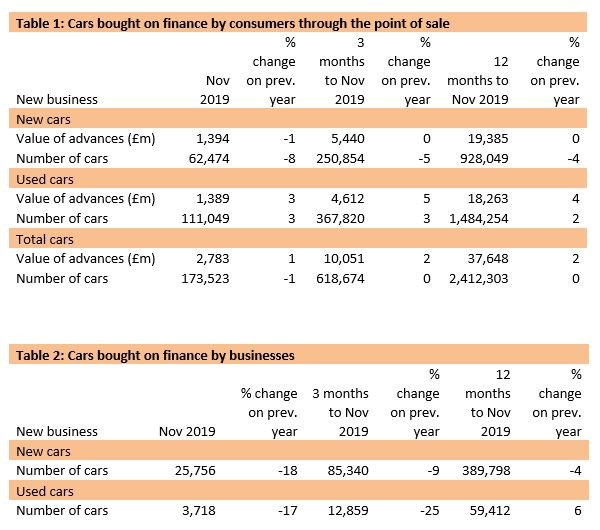 Commenting on a strong year for the used car sector, Geraldine Kilkelly, head of research and chief economist at the FLA, said: "The consumer used car finance market is poised for a record level of new business volumes in 2019 of almost 1.5 million cars, 2% higher than in 2018.
"Further single-digit growth in this market is likely in 2020 with recent survey data suggesting a pick-up in consumer confidence about the economic outlook, personal finances and committing to big-ticket purchases."
November saw a sizable decline in the volume of new and used vehicles funded through POS finance for business.
New car volumes declined 18% to 25,865, while the used vehicle sales declined by 17% to 3,718.
Earlier this month SMMT chief executive, Mike Hawes, urged Government to clarify its message on the future taxation of internal combustion engine (ICE) vehicles in order to give consumers piece of mind when buying a petrol or diesel car and uncertainty surrounding policy can be seen in the FLA's data.