Large numbers of de-fleeted vehicles, postponed PCP returns and terminated PCP agreements caused by COVID-19 will cause a negative ripple effect on car values, according to Automotive Services International (ASI).
ASI, a company which analyses and researches car manufacturer finance incentives, said COVID-19 will cause adverse effects on both new and used car markets as as nearly two million people in the UK have applied for universal credit, a further four million have been furloughed during lockdown and home-based working will reduce commuter numbers in the future.
As a result, ASI said the market should be prepared for new car supply outstripping current demand.
Tashfin Osmani, ASI senior analyst, said: "Manufacturers will have to decide if they increase support for new cars through lower APRs and/or higher deposit contributions (FDAs).
"OEMs will have to decide whether they would like to maintain their current level of profitability, or chase registrations and market share."
ASI data shows that APRs have dropped since the lockdown on March 23 and deposit contributions have spiked throughout April as car manufacturers have looked to support customers and dealers during the pandemic.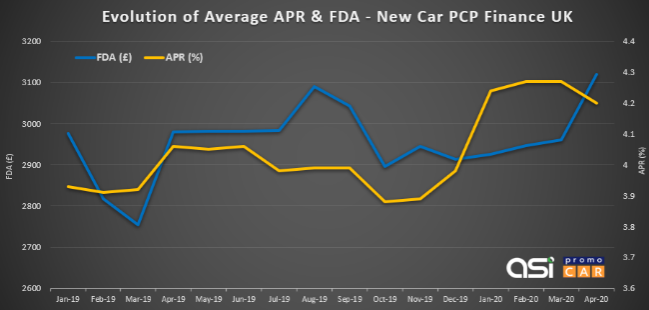 Osmani said: "However, it should be noted that even with a partial lifting of the current lockdown, any pent up demand for new cars would largely have to be met from current stock of built vehicles already in the UK, given that both UK and European car plants have only started to resume vehicle production.
"Supplies destined for the UK will be largely constrained by demand in other countries that are already ahead of the UK in coming out of lockdown like China and Germany."
Osmani said that as soon as new car demand (post lockdown) in the UK starts to outstrip supply, some vehicle manufacturers may actually look to reduce FDAs and other discounts on the most requested models in order to focus on profitability.
He said: "This in turn will lead to many customers having to wait much longer than usual for the delivery of their new car."
While ASI is predicting a tough period for values, BCA has said used car prices have 'steadily risen' in May.
Meanwhile Cap HPI has said dealers need to 'hold their nerve' to protect used car values and fleets are being urged to stagger the return of leased vehicles to help lessen the impact of coronavirus on used car values.