Retailers are back on the ball for Q3 and gearing up for a September plate change that will be a further big test for the new car market since
businesses reopened in June.
New business volumes in the consumer car finance market fell in May 2020 by 78% compared with the same month in 2019, and by 41% in the five months to May 2020.
It's no surprise the latest Finance and Leasing Association (FLA) figures are down, but the next quarter should start moving the numbers in the right direction.
Geraldine Kilkelly, head of research and chief economist at the FLA, said: "The FLA's latest figures suggest that, while the motor finance industry continued to be severely impacted by the lockdown restrictions in May, new business volumes improved on the record low in April as the industry embraced the use of click-and-collect to meet customer demand.
"As the industry gears up to meet an extended period of forbearance and a strong pick-up in demand for new credit, the Government and Bank of England need to ensure that all lenders, including non-banks, have access to financial support schemes.
"This is vital if households and businesses are to be served by a competitive and vibrant motor finance industry post-crisis."
The Financial Conduct Authority (FCA) put some safeguards in place to help consumers in financial difficulty since the lockdown and these have now been extended until October 31.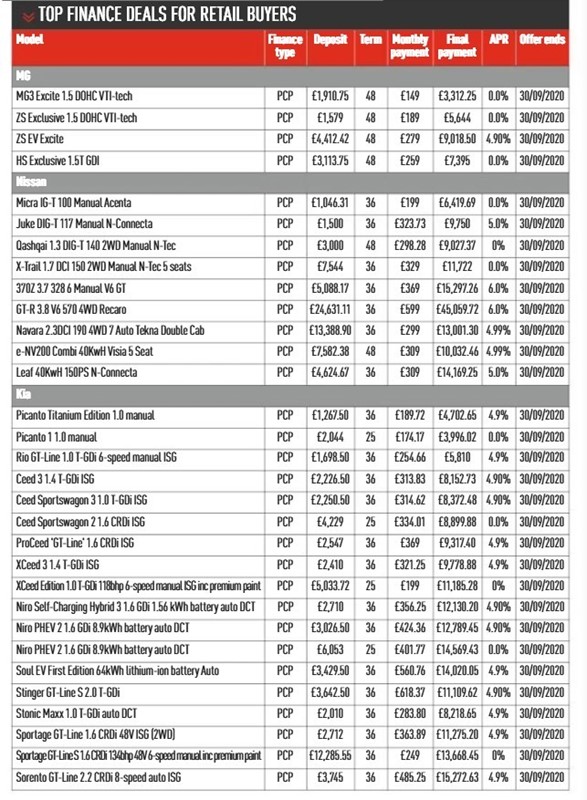 Finance companies will now be contacting customers to see if they need further payment freezes on their car finance over the next three months or whether they can agree on a plan to return to making regular payments.
Car manufacturers had pre-empted the FCA's measures by introducing payment freezes back in April and some manufacturers are continuing to create their own retail support packages to aid consumers in Q3.
Kia has 0% deals on the Sportage, XCeed, Niro, Ceed Sportswagon and Picanto and reduced APR offers across all models and grades on 36-month PCPs. In addition, Kia is throwing in the first two services and two years' roadside assistance for free on all new XCeed and Sportage orders in July to get the ball rolling in Q3.
Further discounts of up to £2,500 are available on selected models when customers part-exchange their old car. The Venga, Carens and Soul also get an extra £500 'Keep it in the Family' discount over the next three months for customers that own another Kia.
MG has 0% offers on its new ZS SUV and it is continuing its swappage scheme with discounts available up to £7,280. It has also introduced a Peace of Mind Promise on electric versions of the ZS. The promise is worth more than £1,500 and includes three years' free servicing, a type 2 charging cable and a free home wall charger installation.
MG's new EV also gets a deposit contribution of up to £2,500 for those that buy before the end of September.
In addition to a three-month payment holiday for all models ordered in Q3, Nissan is also supporting retailers with 0% APR offers on selected Micra, Qashqai and X-Trail models.
Nissan is also continuing to run its SwitchUP campaign, which offers up to £6,300 discount on selected models when customers trade in an eligible vehicle.
Nic Thomas, marketing director at Nissan Motor (GB), said: "We understand that these are challenging times for households across the nation, so we wanted to design our latest offers to ensure Nissan vehicles remain accessible and affordable for customers.
"A three-month PCP payment holiday, plus interest-free finance and full warranty and servicing backup from our dealer network will give people peace of mind that they can buy their next new car with confidence."
This article was first published in the August digital issue of AM magazine, available to read here free of charge.