The number of consumer new car purchases funded by the Finance and Leasing Association's (FLA) members declined by 18% in December to end a COVID-impacted 2020 down 25%.
In data published this morning (February 11), the FLA revealed that the decline in the consumer new car finance market outstripped the 10.3% decline in new car registrations reported by the Society of Motor Manufacturers and traders (SMMT).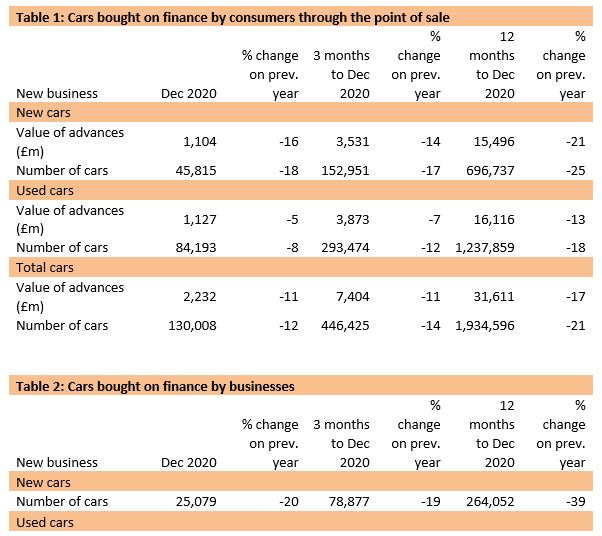 The volume of new car sales funded for consumers in December totalled 45,815 in December and ended 2020 at 696,737.
Finance and Leasing Association (FLA) car finance data table for December 2020However, consumers' used car purchases funded on finance continued a more resilient trend, ending the year with an 8% decline by volume (to 84,193) in December to finish the year down 18% at 1.24 million.
By value, consumers'' used car purchases were down 13% at £16.1bn as new car business was down 21% at £15.5bn across the year, the FLA reported.
The percentage of private new car sales financed by FLA members in the twelve months to December 2020 was 93.2%, up from 91.7% in 2019.
Geraldine Kilkelly, head of research and chief economist at the FLA, said that the lifting of COVID-19 'Lockdown 2' restrictions in England in December had "contributed to an easing in the rate of contraction in new business in both the consumer new and used car finance market".
Last month the FLA reported that consumer car finance business volumes had declined by 25% overall in November.
She added: "Despite the restrictions introduced throughout last year as a result of the pandemic, the consumer car finance market provided finance for over 1.9 million cars in 2020 as a whole.
"The vaccine rollout in the UK has improved the outlook for the UK economy in the second half of 2021.
"Almost two-thirds of motor finance respondents to the FLA's Q1 2021 Industry Outlook Survey expected some growth in new business over the next year if economic conditions improve."