The impact of car supply shortages has been blamed for a 20% decline in the volume of new business in consumer car finance in July.
The Finance and Leasing Association (FLA) reported that the decline in its monthly sector report meant that it had downgraded its growth forecast for the year.
Trading in the first seven months of 2021 remained 20% higher than in the same period in 2020, however.
Geraldine Kilkelly, director of research and chief economist at the FLA, said: "Supply side shortages – both of vehicles and labour – have hit the automotive industry in recent months.
"With most consumer new car sales now financed by FLA members it is not surprising that the consumer new car finance market followed recent trends in private new car registrations which fell by a quarter in July.
"Moreover, July 2020 was a record month for the consumer used car finance market following the lifting of the first lockdown restrictions which was unlikely to be replicated this year.
"Our latest research suggests consumer car finance new business by value will grow by 17% in 2021 as a whole, slightly lower than previous expectations.
"The consumer car finance market is expected to growth by a further 14% in 2022 as supply constraints gradually ease and strong consumer demand continues."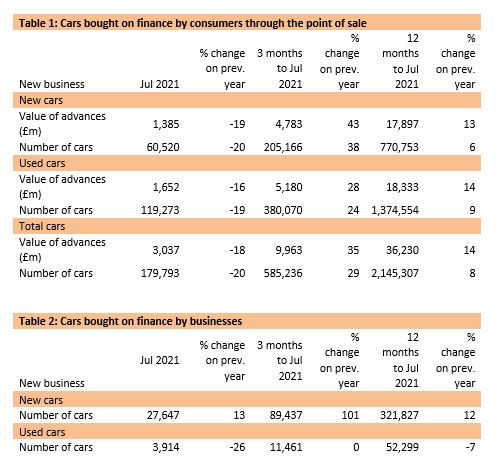 FLA data showed that consumer new car finance delivered a 20% fall in new business volumes in July overall, with used cars down by 19%.
The value of new business from new car sales decreased by 19% in new (to £1.39bn) and 16% in used (to £1.65bn).
The percentage of private new car sales financed by FLA members in the twelve months to July 2021 was 93.6%, up from 93.2% in June.
The FLA warned last month that UK's motor finance recovery set to slow after June's 12% volume growth.
New car registrations data published by the Society of Motor Manufacturers and Traders (SMMT) this week showed that declining volumes will continue to dog the market as supply constraints persist.
On Monday (September 6) SMMT chief executive Mike Hawes said OEMs were doing "all they can" to deliver new cars to customers after the UK suffered its worst August sales performance since 2013 – down 22% year-on-year.
What Car? editorial director, Jim Holder, warned that the microchip shortage "has the potential to surpass COVID with its impact on the industry".