Tracker has published its 2018 league table of the most stolen and recovered vehicles, revealing the BMW X5 to be the most desired model by thieves.
The X5 has claimed the spot eight times in the last nine years. The Mercedes-Benz C Class took poll position in 2017 but has swapped places with the BMW X5, moving down to second place in 2018.
Analysis of 2018 theft activity by Tracker supports reports that the threat of keyless car theft is increasing – including relay attacks.
Tracker data reveals that 88% of stolen vehicles fitted with one of its devices, which were successfully recovered in 2018, were stolen without using the owner's keys.
In 2016, 66% of vehicles fitted with a Tracker were stolen in this way.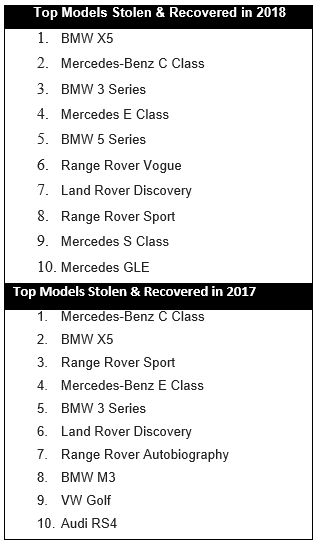 Clive Wain, head of Police Liaison at Tracker, said: "Organised criminal gangs make a living out of stealing to order or taking what they know will sell quickly, and it's a thriving, albeit illegal, profession.
"These people have highly sophisticated skills, continually adapting their techniques to counter technology introduced by manufacturers to safeguard vehicles.
"Although premium models dominate the top 10, the opportunist thief will take any vehicle they can gain access to, so it's vital that owners think about their vehicle security measures to make it harder for criminals."
The VW Golf disappeared from Tracker's most stolen and recovered table last year. Despite its popularity as the UK's bestselling car, it has only appeared in the Tracker league table three times since 2009, first appearing in 2010.
Although prestige brands remain the top targets for thieves, the average value of stolen and recovered cars in 2018 was £20,000. The least expensive recovery was a Toyota Landcruiser worth just £1,000 with the most expensive being a Rolls Royce Ghost worth £120,000.