Bentley Motors will be using augmented reality to demonstrate its new Flying Spur model to showroom visitors.
The British luxury brand's new augmented reality app will allow customers and Bentley fans the opportunity to experience the vehicle before deliveries get underway in early 2020.
Both Apple and Android users will be able to explore the explore the interior, and exterior, in two different specifications through the new software, Bentley said.
Its 'luxury' specification is a meteor exterior, with an interior finished in brunel and linen hides.
The 'performance' specification has an extreme silver exterior with beluga leather accented by Hotspur stitching.
Both configurations offer the mulliner driving specification, rear seat entertainment, Bentley rotating display and the new flying B mascot. The 'performance' specification also features the newly launched blackline specification.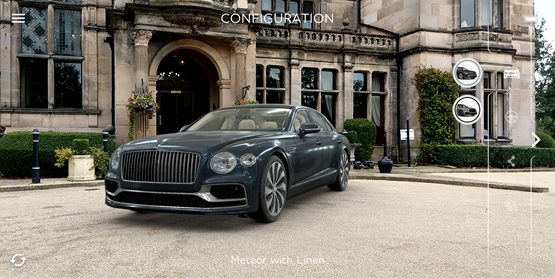 The application uses the up-to-date augmented reality and users can also change the size of the car, viewing it on a table top or scaling up to a full-size simulation.
Users are also able to take the Flying Spur on an augmented reality test drive.
Bentley Motors recenlty appointed Florian Spinoly as director of product and marketing after Christophe Georges became the luxury performance car brand's president and chief executive for the Americas.
Spinoly's arrival at the Crewe-based British carmaker, from a post as director of marketing, product and public relations for Cadillac Europe and Chevrolet Performance Cars.
His arrival has coincided with an intensive period of new product launches which will include the arrival of the all-new Flying Spur.