Stoneacre Motor Group has condemned a former employee whose racist Twitter rant about Home Secretary Priti Patel went viral over the weekend - branding his comments "as an act of hate crime".
The Thorne-based AM100 car retail group found itself associated with Jake Henderson, from Retford, Nottinghamshire, as journalists attempting to track the 30-year-old noted the business listed as his place of employment on a LinkedIn profile.
Stoneacre quickly responded to enquiries to assure media outlets that Henderson has not been employed by it for "some time", branding his comments in the online video as "an act of hate crime and of serious distaste."
"It has been brought to our attention that an individual has posted comments that Stoneacre considers to be an act of hate crime and of serious distaste," the group said.
"We would like to reassure the public and our loyal customers that this individual is not currently employed by Stoneacre and hasn't been for some time."
Taking to Twitter to further emphasise Henderson's lack of any association to Stoneacre, group managing director, Shaun Foweather, took to Twitter to reiterate the point.
He stated: "Due to data protection, I can't comment further beyond confirming the individual is not an employee of Stoneacre and hasn't been for 12 months.
"Racism has no place at Stoneacre and all employees have a company handbook that outlines the code of conduct that's expected of them, and we would acknowledge that if a current employee acted in this manner then they would face disciplinary actions inducing dismissal.
"As this may turn into a criminal investigation, we will not be passing any more public comment as this may affect the outcome of any potential charges/trial under The Contempt of Court Act, 1981."
According to statements issued by Nottinghamshire Police a man has been issued with a summons in relation to a hate crime offence.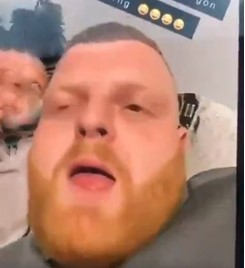 In his viral video post Henderson said that people of colour were "no good in positions of power" as part of a vile tirade against the Home Secretary as she delivered a live address on the COVID-19 crisis.
Other parts of his video were deemed too extreme for media outlets to print or broadcast.
The Sun newspaper reported that Henderson's family were "on the verge of disowning him" and revealed that the Sunday League Football team he managed has sacked him from his post.
A statement issued by Worksop Sunday League team Polo Pukz FC stated: "Polo Pukz FC can announce Jake Henderson has been relieved of his managerial duties.
"We would like to assure everyone that his views in NO way represent our club and would like to thank everyone who brought this to our attention."
The Sun reported that Henderson had posted on his Instagram account that he had "now lost my job" as a direct result of his online rant.
He said: "I made a mistake and now I'm jobless. Please stop the hate. I'm sorry."