Waylands Automotive chief executive John O'Hanlon and IMDA founder member Umesh Samani have told the AM News Show Podcast that AM Live is a vital source of insight and advice for the car retailers.
In part one of the latest AM News Show podcast, members of the AM Live Advisory Board, Waylands' founder O'Hanlon and Samani, owner of Specialist Cars and founding member of the Independent Motor Dealers' Association (IMDA), discussed the urgency of retailers preparing for electrification and digitalisation of the customer journey.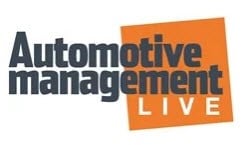 O'Hanlon described the return of an opportunity to gain insight and advice face-to-face - and share ideas with colleagues - as "vital" in the run-up to this week's event at the NEC, near Birmingham.
And Samani said: "The speakers (at AM Live), for me, are what it's all about. You can pick up nuggets about the future of the sector and what's coming along and those are the things that I think people really need to understand."
Video: watch the podcast
O'Hanlon said there were three subjects he was looking to learn about at AM Live this year.
He said: "There are three things affecting my world at the moment: how a dealer is rewarded; electrification; and digital and we're working really hard and investing quite heavily into our digital offering to meet customer demand," he told AM editor Tim Rose and news and features editor Tom Sharpe on the latest edition of the monthly podcast.
"Nobody wants to fill in a form on a website anymore - customers want to communicate via live chat or phone - and it's about making sure we are available on the channels customers wants to use and that's taken a lot of effort. We have created a head of digital sales because we need someone to pick that up and take it on.
"It is fast-moving and the world is ever-changing - there's a few things we can hang our hat on in terms of what's the basics and what 'great looks like', but you need to sniff the air and see what's happening and understand what is available."
At this year's AM Live event taking place this week on November 11, at the NEC Birmingham, delegates will be able to gain advice and insight from industry experts, such as keynote speaker Kevin Gaskell and Facebook's Anita Fox, at the seminars and Insight Theatre.
Delegates can also gain tips, ideas and potential support from the automotive retail sector's leading suppliers who will be exhibiting on the day, and meet and mingle with industry colleagues at one of the sector's premier networking events.
O'Hanlon added: "Some of our supplier relationships have come from going around AM Live and seeing something that I either didn't know about or it wasn't as far up my tick list as it could or should have been."