Automotive Management Live officially returns to the NEC in Birmingham today, with car retailers from across the UK flocking through the doors to gain insight and advice and network in-person.
And as the day's packed agenda of seminars and presentations gets underway at 10am – half an hour after the official opening of doors to visitors – AM has sought to bring you all the information you need to enjoy the day.
To share your pictures, findings and highlights from Automotive Management Live head to LinkedIn, Twitter or Facebook and post using the hashtag #AMLive.
A round-up of what the day will hold for visitors can be read-through in the AM Live 2021 Preview Guide, which features in the current edition of AM Magazine.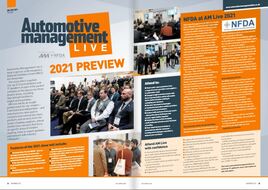 Click here or on the tab to go straight to the event overview.
For an initial insight into the motivation for attending, including the opportunity to uncover "vital nuggets" of information that could impact the strategy of a car retail business, we advise watching the latest AM News Show Podcast.
Featuring AM Live Advisory Board members John O'Hanlon, the chief executive of Waylands Automotive, and Umesh Samani, the owners of Specialist Cars and a founder member of the Independent Motor Dealers Association (IMDA) it is the first of three new podcast episodes.
To access the content click below to view the Youtube video or visit Spotify or Apple Podcasts.
To view the full agenda for AM Live – including keynote speakers Kevin Gaskill, Arturs Smilkstins, Partner at Boston Consulting Group, and Automotive 30% Club founder Julia Miur – click here.
Access to all AM's news stories related to AM Live can be found by following the tag 'Automotive Managment Live' at the bottom of this story. Alternatively, click here.
If you plan to attend AM Live today and have yet to register, meanwhile, the process can be completed in minutes.
Simply visit automotivemanagementlive.co.uk and follow the links to get involved.