A quarter (25%) of UK car dealers have emerged from the festive break with staff absence of over 15% as the Omicron variant of COVID-19 continued to grow cases, an AM poll has shown.
Run just days after the UK Government changed its testing guidelines in a bid to prevent staff shortages crippling the economy, the survey showed that 44% of car retail businesses had been 'moderately' impacted by COVID-related absences of up to 15%.
The National Franchised Dealers Association (NFDA) this week published the updated guidelines for retailers in England, Scotland, Wales and Northern Ireland.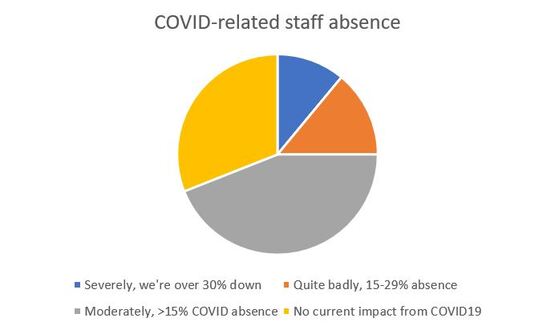 Over 200 respondents contributed to the snap poll published as the UK reported 152,306 new cases of COVID-19 yesterday (January 6).
Before Christmas AM reported that rising cases of the Omicron variant of COVID-19 were exposing anti-vaxxers as one of the car retail sector's biggest business disruptors.
Peter Smyth, director at Swansway Group, said that employees who refuse to be immunised were creating major problems for employers as the numbers rise.
"The main issue is our anti vaxxers," Smyth told AM. "They are coming in saying they have a cold and it immediately sets other employees on edge.
"It's my opinion that everyone should be vaccinated. By not having the jab you're becoming one of the biggest potential disruptors to the business and putting others at risk."
As detailed by the NFDA, new Government guidance has been introduced in a bid to reduce COVID-19 isolation periods and ease pressure on the PCR testing regime.
In England from January 11, individuals who test positive for COVID-19 via a lateral flow test (LFD) must now self-isolate without seeking a confirmatory PCR test.
However, those who receive negative LFD results on day six and day seven of their self-isolation period – with tests taken 24 hours apart – will no longer have to self-isolate for the full 10 days.
In Scotland, self-isolation can end early for those who record two consecutive negative LFD test results from day six onwards, taken 24 hours apart.
The NFDA has also reminded small and medium-sized car retailers – those with fewer than 250 employees – that they will be reimbursed for the cost of Statutory Sick Pay for COVID-related absences, for up to two weeks per employee as part of the Government's Statutory Sick Pay Rebate Scheme (SSPRS).