Government's 'Plan B' to mitigate against the approaching "tidal wave" of cases of the Omicron variant of COVID-19 have done little to dampen rising used car values, according to Auto Trader.
Despite the return of face masks to retail spaces and ahead of today's (December 15) introduction of COVID passes for many public spaces, the online marketing platform reported that the sector saw an 84th successive week of retail used car price rises last week.
The average price of a used car advertised on Auto Trader reached £20,109 last week as values increased 28% year-on-year (YoY) – up from 26.9% last month.
Auto Trader's data and insights director, Richard Walker, said: "At this time of year, as we fast approach Christmas, it's quite normal to see price growth slow on a week-on-week or even a month-on-month basis.
"What is far less typical however, is the very strong levels of consumer demand that we're continuing to track in the market, which even with the introduction of the Government's Plan B measures, shows no sign of weakening.
"In fact, fuelled by the recovering economy and a resilient labour market, we can expect very strong demand to continue for some time to come. Coupled with the ongoing new and used car supply constraints, these market dynamics will keep used car price growth on its current trajectory well into 2022."
Auto Trader's data showed that last week's average prices were flat (0.0%) on a like-for-like basis against the previous week (29th November – 5th December).
But Walker insisted: "Any suggestion, therefore, that any recent easing is anything beyond a normal seasonal trend is simply not correct."
Cox Automotive recently asserted that used car values will never dip back to pre-pandemic levels after certain used cars were hit by "significant price decreases" in November.
Cap HPI head of valuations, Derren Martin, also told AM that retailers need not fear a "seismic" slump in used car values in 2022 as limited supplies and strong demand remain the order of the day.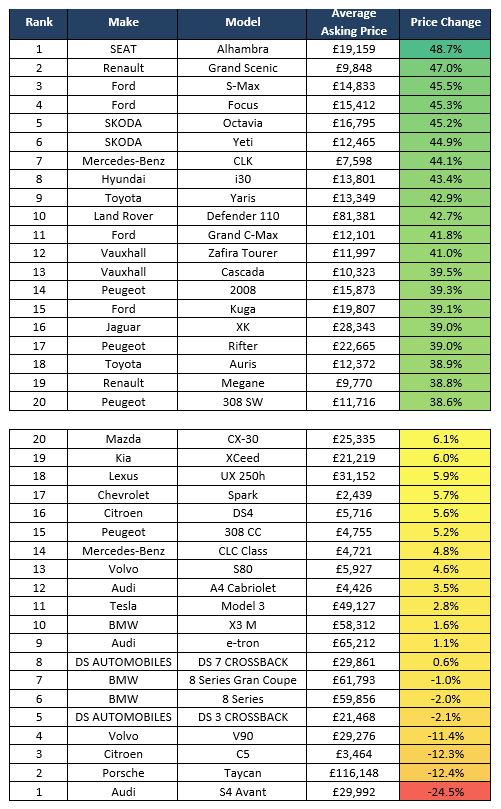 MPVs continued to be the strongest performers in Auto Trader's weekly ranking of the most appreciating and depreciating vehicles.
The Seat Alhambra, Renault Grand Scenic and Ford S-Max saw their values rise by over 45% year-on-year last week.
Auto Trader said that strong demand among car buying consumers could be seen in the 11.6 million cross platform visits to its marketplace last week – a 20% increase on the same period two years ago.
It also claimed that the average number of used car leads sent to retailers had grown 46% when compared to the same period in 2019.
There was a 9% decrease in the number of retailers making daily price adjustments to their forecourts last week, when compared to the same period in 2019, Auto Trader said.
It added: "Over the last six months there has been a significant increase in the number of cars being priced above the market average from day one, which suggests retailers are being far more aggressive in their pricing strategies.
"In November, 38% of cars entering the market were priced above average, compared to just 24% a year earlier."