Honda's confirmation of plans to close its Civic-producing Swindon factory following a three-month consultation process have been described as "a betrayal of the workforce".
The Unite union's national officer, Des Quinn, said that the decision to leave the factory – a process which would see the Japanese carmaker begin redundancy talks with 3,500 site employees immediately – was a "body blow which is nothing short of a betrayal of the workforce".
Honda UK director, Jason Smith, said yesterday (May 13) that the decision to leave Swindon had been taken with a "heavy heart".
"We understand the impact this decision has on our associates, suppliers and the wider community," he said.
"We are committed to continuing to support them throughout the next phases of the consultation process."
At March's Geneva Motor Show, Honda UK managing director David Hodgetts conceded that the closure of the brand's Swindon manufacturing facility could impact the brand's sales.
Hodgetts held the post of division manager of production planning and logistics between 1998 and 2005 – a time of considerable growth at the plant – and agreed that public perception of the brand in the UK could be affected by the plan to close the plant by 2022.
Speaking to AM, he agreed with the assessment that sales "could be" impacted, adding: "We do have a lot of customers who are used to buying car that is built in Britain."
But Honda UK's head of car, Phill Webb, said that few Honda customers were actually aware of where their vehicle was built, despite the brand's reputation for manufacturing in the UK.
"Over the years various cars have been built in Britain and in Japan and I don't think people really know the difference", he said.
"For a time we did bring production of the Jazz to the UK and it made no impact on sales volumes."
Webb added: "I think people appreciate the fact that we've clearly communicated the reasons for the move, and that was to further our electrification strategy. It wasn't down to anything else. The dealers understand that and they know what that means commercially."
Honda announced its pledge that every car its sells in Europe by 2025 will be in some way electrified, as it announced plans to broaden its range of hybrid and electric vehicle (EV) models.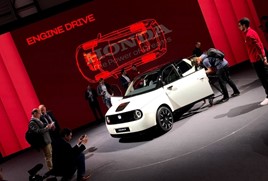 Unveiled at the Geneva Motor Show 2019 was the Honda e Prototype, which came a step closer to production readiness.
Last week the brand confirmed that the production version of its first EV, the Honda e five-door hatchback, would go on sale in Q1, 2020.
Katsushi Inoue, the chief officer for European regional operations and president of Honda Motor Europe, announced proposals to close the Swindon site as part of plans to electrify the Honda model line-up back in February. He said: "In light of the unprecedented changes that are affecting our industry, it is vital that we accelerate our electrification strategy and restructure our global operations accordingly.
"As a result, we have had to take this difficult decision to consult our workforce on how we might prepare our manufacturing network for the future. This has not been taken lightly and we deeply regret how unsettling today's announcement will be for our people."
But Quinn said Honda had rejected Unite's alternative plan which, he claimed, would have kept the plant open.
"We have this body blow which is nothing short of a betrayal of the workforce, customers and the wider supply chain which relies on Honda Swindon for work," he said.
"Unite can only conclude that Honda is taking a strategic decision to retreat out of Europe in favour of protecting its North American operations and avoiding president Trump's tariff threat on cars made in Europe.
"Unite will be consulting with its members on our next steps in the coming days."