Toyota has said that its UK car dealers' existing signage will "remain in place" after it unveiled a new logo and branding that attempts to signal its transition into becoming a mobility company.
The Japanese carmaker said that the new design would be rolled out with the European launch of the new Toyota Yaris hatchback, describing it as a new design language for "a mobility-first digital age", which operates fluently across all digital and physical touchpoints.
But no imminent changes look likely to the corporate identity (CI) adhered to by its UK franchised retailers.
While a spokesperson for the brand indicated that it was likely to signal a new CI, the official statement released by the brand this morning (July 20) said: "The new logo will be applied across all communication touchpoints, while the current logo will continue to be used for Toyota vehicles.
"The current retailer signage will also remain in place and will be reviewed in the Toyota 2025 Network Strategy."
Toyota said that its new visual identity had been driven by simplification and has been shaped by four key principles: forward-thinking, mobile-ready, more premium feel and consistency across all business units and sub-brands.
Following a trend seen in the new logo designs of Volkswagen and BMW in recent months, Toyota's new brand logo distils its emblem to a simple, two-dimensional design.
The Toyota wordmark has also been deleted.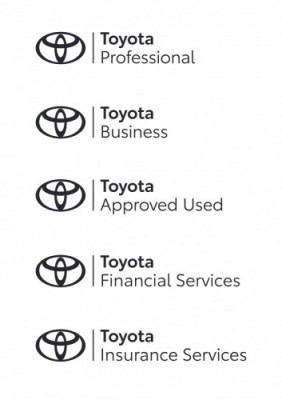 The brand said that the redesigns would bring greater clarity and consistency across its different business areas, including some name changes.
Toyota Insurance Management is now renamed Toyota Insurance Services as its business expands with the growth of connected services and new mobility products.
In used cars, Toyota Plus becomes Toyota Approved Used.
Earlier this year Toyota Fleet Mobility (TFM) announced the re-branding of Inchcape Fleet Solutions (IFS) under its Kinto personal mobility brand as its looks to "transition from being a car manufacturer to a mobility company".
The Japanese car brand's fleet division announced the £100 million acquisition of IFS in October last year as the AM100 car retail group carried out a series of disposals from its UK business.
Commenting on the brand's latest, wider-reaching rebranding exercise, Didier Gambert, Toyota Motor Europe's vice-president sales, marketing and customer experience, said: "We developed the new brand visual design with 'tomorrow' in mind.
"Our focus was on enabling ever-better customer connections, allowing them to keep pace with Toyota's rapid expansion of electrified vehicles, mobility services and online retailing.
"The design was re-purposed to better connect with customers across diverse touchpoints. They can experience it for the first time with the launch of the new Yaris Hybrid, the all-new fourth generation of our innovative city car."