Car manufacturing 'super group' Stellantis delivered rising share prices as it made its stock market debut in Paris, Milan and New York.
The new entity, the result of a merger between Groupe PSA and FCA Group approved by shareholders earlier this month, appears to have gained immediate traction among investors, with Reuters reporting that shares climbed as much as 7.5% in Milan, where the ticker STLA replaced Fiat Chrysler's symbol this morning (January 18).
In Paris, where the company listed in place of Peugeot SA, trading saw a similar improvement.
Milan-listed shares of Stellantis started trading at €12.76 (£11.37) and were up 7.5% at €13.51 (£12.03) as of 10am.
The Paris-listed shares traded around the same level.
A new era for the merged Groupe PSA and FCA Group operation – said to be the world's fourth largest car maker – with anticipated annual sales of 8.7 million vehicles – got underway with a 'bell ringing ceremony' to mark the opening of shares trading in the early hours of this morning.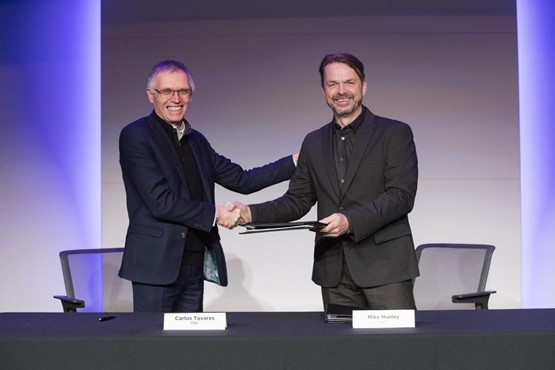 Stellantis chief executive Carlos Tavares, said: "Our merger is a huge opportunity to take a stronger position in the auto industry as we seek to master the transition to a world of clean, safe and sustainable mobility and to provide our customers with world-class products, technology and services.
"I have every confidence that with their immense talent and their collaborative mindset, our teams will succeed in delivering maximized performance with vigour and enthusiasm."
Tavares has said that the Stellantis merger will add €25 billion euros (around £22.3bn) in value for shareholders over the years, thanks to projected cost cuts.
The new organisation, which is responsible for 400,000 employees and 14 brands, has stated that costs of more than €5bn a year can be achieved without the need for plant closures.
Following initial confirmation of the Groupe PSA and FCA Group merger plans, back in late 2018, AM reported that a period of franchise consolidation could follow realisation of the manufacturer's plans, however.
But while joint retail sites bringing together the resulting manufacturer group's 15 brands in any single multi-brand car retail locations were deemed unlikely by ICDP managing director, Steve Young, he said that clearly defined "winners and losers" to emerge from the new automotive giant.
Young said the new PSA/FCA entity would almost certainly deliver "some consolidation of investors", adding: "Existing PSA dealer investors will be expected to take on territories which currently have weaker investors for FCA, and existing PSA initiatives in the parts sector will be extended into the FCA brands.
"Inevitably, this will bring winners and losers, but the resulting dealer body should be stronger."