Aston Martin's new DBX SUV accounted for more than a quarter of the British carmaker's 2020 sales as volumes declined by 32% in a COVID-impacted 2020.
The Gaydon-based OEM, which came under new ownership in 2020, sold a total of 4,150 retail vehicles last year across the year, with the DBX accounting for 1,171.
Its wholesale volume declined still further, falling 42% from 5,862 units to 3,394.
The result was a 37.6% dip in revenues to £611.8 million (2019: £980.5m) and an operating loss of £323m, including a £98m of "adjusting operating items, largely the impairment of capitalised R&D due to technology and cycle plan changes".
Following the challenges of 2020, however, new Aston Martin chief executive Tobias Moers delivered details of the brand's new 'Project Horizon' strategy as its annual financial results were revealed.
Aston Martin is planning to increase its wholesale business to 10,000 cars by 2024/2025 and achieve revenues of £2bn and a £500m pre-tax profit in a strategy aiming to "drive growth, agility and efficiency" in the wake of the pandemic.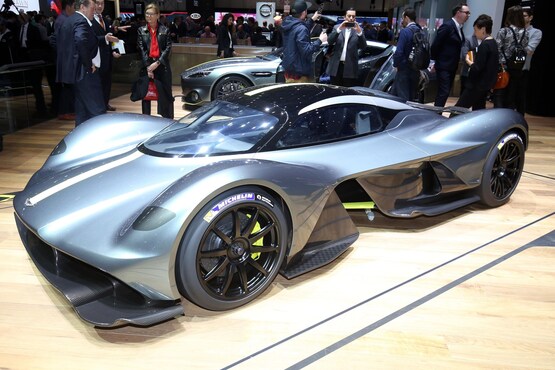 Delivery of the long-awaited Valkyrie hypercar and new derivatives of the DBX are among the key priorities for 2021.
Moers said: "We have further strengthened the management team, adding experienced hires with strong luxury and automotive backgrounds.
"We also have significant benefit from the global reach of the Aston Martin Cognizant Formula 1 team from this season to further drive brand awareness.
"With these actions and the refinancing, we have secured the right team, partner and funding to deliver our transformational growth plans to create a world-class luxury auto maker."
In June last year Aston Martin revealed a plan to axe 500 jobs as part of a restructure of its operations designed to save the British carmaker £10m each year.
Aston Martin ended 2020 with a total cash reserve of £489m, a significant boost over December 2019's £108m.
The firm attributed the position to a refinancing measure designed to both "strengthen financial resilience and support growth ambitions".
Billionaire F1 team boss Lawrence Stroll's acquisition of a 16.7% stake in January and then Mercedes-Benz boosting its stake to 20% also helped to contribute to a reduction in net debt from £988m to £727m.