INEOS has agreed franchised sales and servicing contracts with Cambria Automobiles and JT Hughes as it works to establish a 23-site UK retail network by July next year.
The manufacturer revealed yesterday (September 28) that it is targeting 200 retail sites globally for its Grenadier 4x4 by the time the long-awaited model is launched in summer 2022.
Existing BMW franchisees are being specifically targeted, it said, due to their existing "expertise in servicing the Grenadier's BMW engines".
Cambria Automobiles; Compass Tractors, in Bridgwater, Somerset; and JT Hughes, Telford, have already been signed-up to the franchise in the UK.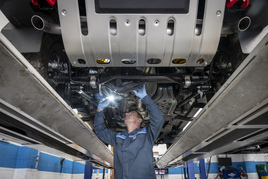 As part of a sales and aftersales blueprint created with the help of Robert Bosch GmbH, INEOS said that its primary network will be complemented by access to over 10,000 Bosch Car Service workshops worldwide.
The OEM said: "Most customers will never be further than 50km away from an INEOS-accredited workshop", but will also offer the option of online sales.
Mark Tennant, commercial director at INEOS Automotive, said: "We wanted to give customers the choice of how much they wanted to see us, which means providing a full combination of digital and physical options.
"Customer convenience, parts availability, service quality: we are focusing on getting the basics right, giving customers the buying experience they want and the aftersales support they need.
"If preferred, customers in our main markets will be able to buy their Grenadier online, including organising vehicle finance and handling any part exchanges.
"But we fully accept that most will want to try before they buy, for which having an extensive network on the ground is essential."
Reservations for the INEOS Grenadier, which is expected to be priced at around £48,000, will officially open on September 30, when 75,000 potential customers who expressed an initial interest in the vehicle will have two weeks to place an early order.
Reservations will open more widely from October 14.