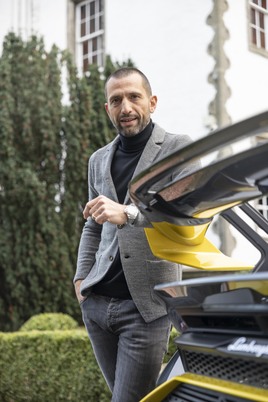 Lamborghini in the UK is on course to bounce back from the COVID-related drop in sales and is eyeing the next step in its electric vehicle (EV) strategy.
Francesco Cresci, Lamborghini director of the EMEA Region (Europe, Middle East and Africa), has praised the work of his 11 UK dealers over what has been a difficult 20 months overshadowed by the pandemic.
"For sure it has been challenging," Cresci, speaking exclusively to Jim McGill for AM during a visit to Lamborghini Edinburgh, explained, "but across our whole UK network of partners the commitment and drive to succeed has been exemplary."
While Lamborghini global sales in 2021 are set to exceed the company's previous record year of 2019 when 8,205 units were sold, — and again recovering from the COVID-affected 2020 total of 7,430 — the UK too will deliver improved performance.
From its record of 658 units in 2019, UK sales fell to 517 last year. Though Lamborghini will not reveal specific figures ahead of year-end, 2021 will show a significant improvement.
"We expect our global figures to be pretty similar to 2019, and certainly significantly up from last year," Cresci stated. "The dip in 2020 was directly affected both by COVID and our production line shutdown. This year our UK sales will also definitely be up again."
No supply chain impact
Looking ahead to 2022, the Italian was quick to emphasise that sales will not be affected by supply chain issues and, indeed, will simply continue to be directly influenced by supply from the factory at Sant'Agata.
"We are lucky at Lamborghini to be part of the VW Group and they are protecting our volume in terms of access to the supply chain," he continued. "So we are not being impacted by these problems.
"In terms of growing future volume in the UK, across Europe we still believe there are areas of potential growth. At the moment our performance in the UK is determined simply by the numbers we can get from the factory."
That future growth will be directly impacted by Lamborghini's plans for hybridisation and electrification.
Under the 'Direzione Cor Tauri' plan, the company will electrify its entire line-up by 2024, and add its first fully electric model by the end of the decade.
Lamborghini goes elelctric
"People living around the big cities around the world — and in the UK that obviously includes London, Birmingham, Manchester, Leeds, Edinburgh and Glasgow — will be directly impacted by the changes which are happening globally in terms of driving," Cresci explained.
"So we expect the advantages of hybridisation and electrification to be of significant benefit to our dealerships in the principal cities."
While the implementation of hybrid powertrains is set to further improve the performance of Lamborghini's super sportscar range, the introduction of its first all-electric car could well take the form of a GT 2+2.
"We are working on a number of scenarios for the concept of the fourth model, our first all-electric car, to see what the best model is for us," he continued.
"We definitely don't want to introduce something which is going to canabilise sales of our Urus; but at the same time we want to launch a product which can fit into our product range and expend the customer base. So yes, a GT 2+2 is a good option."
But as the Lamborghini range evolves into hybridisation and all-electric, Cresci is adamant that the core experience of walking into a dealership and engaging one-to-one "with one of our partners" will remain pivotal to the buying experience.
Dealership sales experience
"Certainly some brands are actively going online for sales, but honestly, for a product like ours it's the people who are making the difference," he explained. "Lamborghini buyers enjoy the direct contact with the people at our partners.
"Digitalisation is definitely an important trend, so we are also following it. It's crucial for data, certainly in terms of how the customer configures their car.
"But in saying that, we still believe the showroom remains centrally important to our clients' purchasing experience."
Important too, of course, to dealerships is profitability. And while, understandably Cresci remained tight-lipped on specific figures, he did paint a healthy image for his principal UK partners.
"We are happy, and they are happy as well," he said. "What is important to us is that our partners remain with the brand. At the moment the stability of our network is very good.
"We don't reveal specific profitability figures, but suffice to say it's a win-win situation for both Lamborghini and our dealers.
"As our volumes have grown, then so too has their return on their initial and ongoing investment. We are very happy with the partners we have."