Ford, back as the UK's new car market leader currently, has closed the order book for its new Fiesta supermini while it battles to reduce a backlog caused by shortages of semiconductors.
Its website informs prospective buyers that new car orders are currently unavailable and they should contact their local Ford dealer to review available stock.
A Ford of Britain spokesman confirmed the move to AM, adding that with Fiesta its existing customer orders now consitute more than six months of production.
"We are therefore temporarily suspending new Fiesta orders while we work through these customer orders," he added.
"As we manage our way through the global semiconductor shortage, production of Fiesta and Focus have been significantly affected.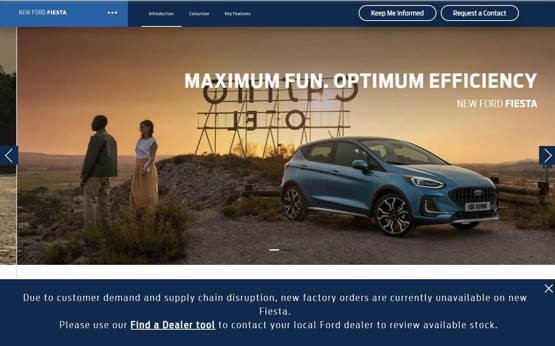 "We anticipate that this will improve throughout this year, but in the meantime, we feel the right thing to do is to temporarily close the order banks to new orders while we work through this backlog."
The Ford dealer network has more than 500 approved used Fiestas on sale via Ford's used car locator, including around 40 aged less than one year old.
The Ford Fiesta was the UK's best-selling new car annually for 12 consecutive years until 2021, when it lost the title to the Vauxhall Corsa, largely due to production constraints.
At the time Ford of Britain's managing director Lisa Branklin said it was not reflective of a loss in popularity for its small hatch, but rather a shift in priorities during the microchip shortage.
"Ford prioritised vehicle supply in a difficult year, with the pandemic ongoing and semiconductor shortages affecting the entire automotive industry, to grow commercial vehicle sales and meet the demand and loyalty to the Transit brand," Branklin said.
Factoring in commercial vehicles, the Ford Transit Custom was actually the most popular vehicle in 2021's new vehicle market; at 53,000 registrations, it was some 12,000 units ahead of the Vauxhall Corsa.
Market data shows that the popular SUVs, Ford Puma and Ford Kuga, have taken over currently as Ford's most sold new cars - both featured in the market's top 10 sellers during April.