New car registrations slumped 20.6% to deliver the lowest May volume in three decades as supply issues continued to hamper the automotive retail sector, Society of Motor Manufacturers and Traders (SMMT) data shows.
Component shortages resulted in just 124,394 vehicles finding new owners across the UK last month as car manufacturers once again struggled to meet demand, leaving May's volume 32.3% below pre-pandemic 2019, the industry body said.
Year-to-date, volumes are now down 8.7% (62,724 units) on a 2021 market impacted by COVID-19 trading restrictions in Q1, leaving the sector 40.6% below the five-year average recorded from January to May.
And despite many franchised car retailers currently battling to satisfy bulging order banks, many now fear that the cost-of-living crisis is set to put the brakes on demand in the longer term as soaring energy costs trigger record inflation and rising interest rates.
Commenting on today's (June 6) SMMT registrations data, Close Brothers Motor Finance managing director Seán Kemple said: "The soaring cost of living and spiralling energy bills are forcing consumers to hit the brakes on big ticket purchases, and that has caused a softening of demand for new cars.
"Many drivers are shifting their sights to used cars, choosing to rent or lease, or putting off the decision altogether."
At the start of last month AM reported on Cox Automotive's warning that car retail should prepare for a less certain trading outlook as consumers 'grapple with a cost-of-living crisis'.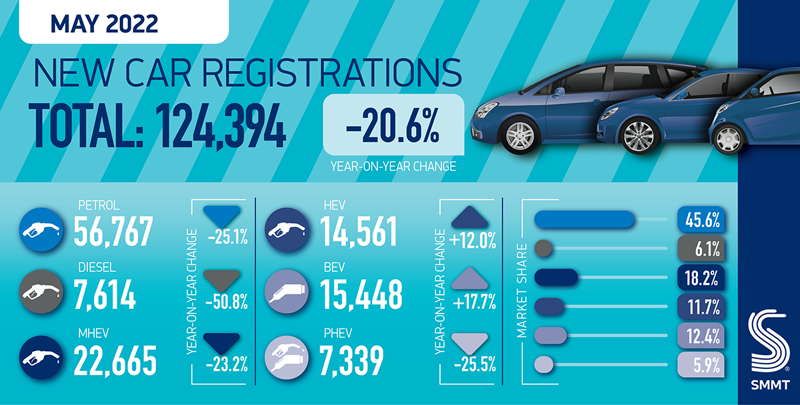 Private car sales declined by 10.3% in May, growing their market share by 6.1ppts year-on-year to 53.2% as OEMs worked to fulfil deliveries.
As a result, the business and large fleet sectors now comprise 46.8% of the market.
Electric vehicles (EV) remain a key focus of OEMs efforts.
May saw EV registrations rise 17.7%, representing one-in-eight new car registrations last month.
Plug-in hybrid registrations declined 25.5%, while hybrids were up 12% year-on-year, meanwhile, meaning deliveries of electrified vehicles accounted for three in 10 new cars.
Superminis made up 32.7% of registrations in the month, despite their registrations falling 16.4% to 40,667 units, as the Vauxhall Corsa retained top spot as the UK's best-selling car.
The small volume luxury car segment was the only area of growth, up 16.8%, to 369 units.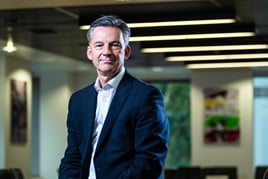 Another 'challenging' month
Mike Hawes, SMMT Chief Executive, said: "In yet another challenging month for the new car market, the industry continues to battle ongoing global parts shortages, with growing battery electric vehicle uptake one of the few bright spots.
"To continue this momentum and drive a robust mass market for these vehicles, we need to ensure every buyer has the confidence to go electric.
"This requires an acceleration in the rollout of accessible charging infrastructure to match the increasing number of plug-in vehicles, as well as incentives for the purchase of new, cleaner and greener cars.
"Delivering on Net Zero means renewing the vehicles on our roads at pace but, with rising inflation and a squeeze on household incomes, this will be increasingly difficult unless businesses and private buyers have the confidence and encouragement to do so."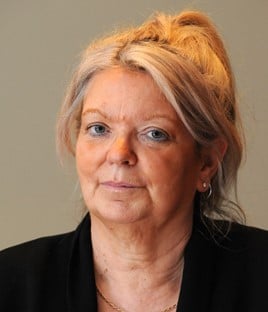 National Franchised Dealers Association (NFDA) chief executive Sue Robinson said: "Supply side issues, alongside increasing cost of living pressures in the UK are resulting in a subdued new vehicle market.
"Franchised dealers that have Electric Vehicle Approved (EVA) accreditation are enabling customers to buy an EV with confidence, something that will continue going forward. NFDA will continue to work with all its members to ensure the best result for customers around the UK."
Kemple highlighted the ongoing issues suffered by a number of OEMs as he looked ahead. He said: "Glaring issues remain on the supply side. Toyota is pulling back its manufacturing forecast by a tenth worldwide, and Mini have paused production of all manual vehicles.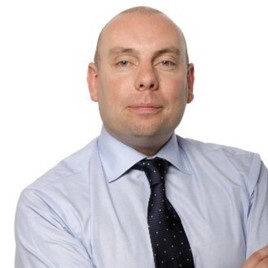 "Especially concerning is VW Group's decision to close production lines, which has heavily affected electric vehicle supply across Audi, VW, Porsche, Seat, and Skoda.
"Customers with an eye to one of these models could be waiting until summer next year before the cars hit showrooms.
"The glimmer of light continues to be demand for the electric and hybrid market. The rising cost of petrol, extension of low emission zones, and increasing environmental consciousness are pushing consumers to greener models, accounting for more than a quarter of new car registrations each month."