New car sales were down 15.8% in April 2022 versus April 2021, with the month ending at a total of 119,167 registrations.
The SMMT data shows April's decline was driven primarily by a -33.3% decrease in large fleet registrations, as many brands, unable to get enough cars built to match demand, continue to prioritise the typically more profitable private consumer segment, which helped this market segment see a modest increase of 4.8%.
Smaller business registration volumes fared better, growing by 15.4%.
Blaming the ongoing impact of supply chain constraints and broader macro-economic factors such as rising inflation and global political uncertainties, the SMMT's usual April reforecast has led to a downgrade of its market outlook for the full 2022 year.
That followed the worst March plate-change market since 1998.

It now expects 1.72 million new cars new cars to be registered during 2022, down from the 1.89 million forecast it made in January.
That will still represent a 4.5% rise on 2021's total.
And the SMMT expects a quarter of all new cars sold this year will be plug-in vehicles: either pure battery electric vehicles (BEV) or plug-in hybrids (PHEV). These have represented just over one in five new cars registered year-to-date so an uplift is expected as more and more new plug-in cars are launched.

"The worldwide semiconductor shortage continues to drag down the market, with global geopolitical issues threatening to undermine both supply and demand in the coming months," said SMMT chief executive Mike Hawes.
"Manufacturers are doing everything they can to deliver the latest low and zero emission vehicles, and those considering purchase should look to place their orders now to benefit from incentives, low interest rates and reduced running costs."
Hawes said that accelerating the transformation of the new car market and the carbon savings demanded of road transport in such difficult times requires not just the resolution of supply issues, however, but a broader package of measures that encourages customer demand and addresses obstacles, the biggest of which remains charging anxiety.
The SMMT wants any regulation seeking to increase electric vehicle sales to be matched by commensurate and binding targets on charging infrastructure provision.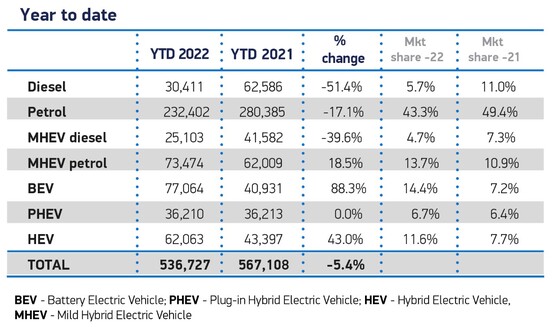 In April there were 12,899 BEV registrations, an increase of 40.9% on the same month last year.
Responding to the April data, Ian Plummer, director at Auto Trader, said many of the sales reflected in April's figures would have been concluded months ago and the chief hurdle to stronger growth remains supply, not demand.
"Despite a worsening cost-of-living crisis, consumer demand for new cars remains robust, with some vehicle manufacturers reporting many months' worth of orders backing up. And on our marketplace, we're seeing the number of enquiries from would-be new car buyers increasing around 10% on the very strong April numbers seen last year, a period that saw huge pent-up demand released by the end of the UK's third Covid lockdown," he added.
There is little prospect of a complete recovery of new vehicle production to pre-pandemic levels in the short-term.
"The supply chain issues and component shortages dogging the car industry are now likely to last into the first half of 2023 as the conflict in Ukraine exacerbates post-pandemic disruption for manufacturers," Plummer added.
NFDA chief executive Sue Robinson added: "Demand is being dampened by the cost of living pressures. NFDA's state of the market survey reveals cost of living increases are the most concerning factor for franchised dealers, followed by the ongoing supply constraints.
"Buying a new vehicle tends to be the second largest purchase in the life of a consumer, after their house. Therefore, franchised dealers are working extremely hard with the customer to ensure quality of service and customer care at a time when inflationary pressures are beginning to impact decision making.
"It is also of note that sales of electrified vehicles continue to perform very strongly as brands introduce new models. Franchised dealers that have Electric Vehicle Approved (EVA) accreditation are extremely well placed to advise customers on what is the best new vehicle for them."
Richard Peberdy, UK head of automotive at KPMG, said in the face of weakening consumer spending power and rising fuel and energy costs, car sales demand has remained relatively robust so far this year, compared with the very limited supply.
"Spending intention also remains, with a fifth of consumers planning on spending savings in 2022 telling KPMG that they will use them to buy a car," he added.