Volkswagen could claim leading brand status in the electric vehicle (EV) market from Tesla as soon as 2024, according to new research compiled by Bloomberg Intelligence (BI).
The German OEM, which counts brands including Audi, Cupra, Seat, Skoda and VW among its portfolio, is already launching a flurry of zero-emission models and Bloomberg believes that Elon Musk's pioneering brand now has just 18 months remaining at top spot.
Last month AM reported that VW Group chief executive Herbert Deiss had conceded that the race with Tesla to become the world's leading EV producer by 2025 would be "tight".
Addressing the Financial Times' Future of the Car Summit, Diess said: "I didn't expect our main US competitor's growth to be so fast."
But BI's 'Battery Electric Vehicles Report – Automakers Race to the Top' found that VW is on track to overtake Tesla's EV volume in 2024 as global EV demand more than doubles in the period to 2025.
The report said that the profit incentive to catch up with Tesla is lacking for most traditional marques in the short term amid rising battery costs and a lack of scale, except for Volkswagen.
Deiss stated once again that the VW Group would be aiming for a 30% EV sales mix in 2023 and 45% in 2025 as part of its bid to beat Tesla.
China's BYD appears set to rank third for EV sales globally in 2025, BI found, followed by a glut of legacy automakers "languishing around the one million annual EV sales mark".
Its report added: "It is not until later in the decade that US and Japanese automakers will be serious challengers for a top three spot."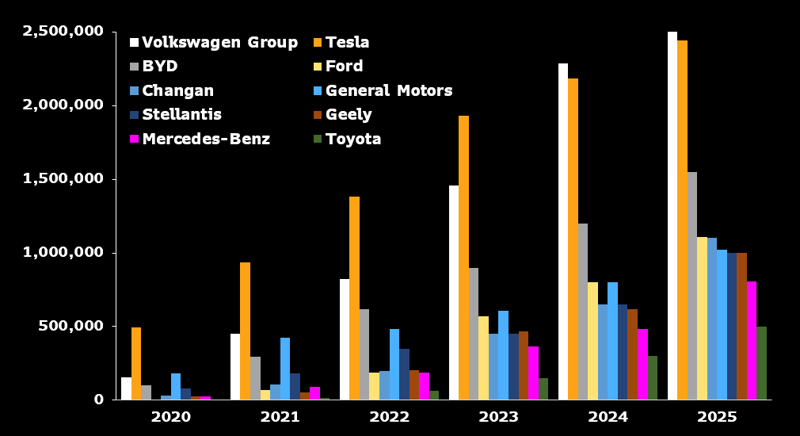 Battery prices remain critical to the cost competitiveness of EVs and Volkswagen is investing up to 30 billion Euros in its supply chain, including six new battery-cell plants in Europe by 2030.
Michael Dean, senior European automotive industry analyst at Bloomberg Intelligence, said: "Looking ahead, automakers in Europe, China and elsewhere will continue to challenge Tesla via an impending wave of new models, though profit incentives are limited amid rising battery costs and a lack of scale. That may change in 2025-26 as more brands achieve critical mass on new-generation models with proprietary software.
"There are a number of challenging external factors to consider and bold BEV ambitions have done little to prevent crisis-level valuation multiples, stoked by recession fears, rising interest rates, supply-chain constraints and inflation."
Great Wall's Ora and the Thai-owned Vinfast are two EV brand's currently poised to enter the UK market and challenge the likes of MG Motor UK in offering an affordable range of zero-emission vehicles.
Yesterday's news that the UK Government's plug-in car grant (PiCG) has now been scrapped raised questions about the affordability of making the switch to an EV in an escalating cost-of-living crisis.
NFDA chief executive Sue Robinson said: "The decision to close the Plug-in Car Grant is exceedingly disappointing as it will, without doubt, heavily disincentivise EV adoption across the UK and has the potential to derail the positive progress the automotive sector has made towards decarbonising transport.
"This move sends the wrong message to consumers and will ultimately harm less affluent families seeking a transition to a cleaner method of transport."
BI's full "BI Battery Electric Vehicles Report - Automakers Race to the Top" can be accessed by clicking here.