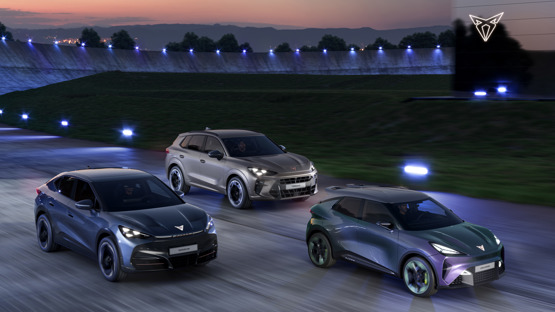 Cupra will launch three new cars over the next three years as it targets annual sales of 500,000 units.
The Spanish performance car brand, which is part VW Group's Seat, said it plans to double its sales, turnover and City Garage network this year.
Two of Cupra's new models will be fully electric, expanding it's line-up of EVs alongside the existing Born.
The Cupra Tavascan, which utilises VW ID4 underpinnings, will arrive in 2024. It will take the form of an SUV, entering the competitive family crossover space.
Cupra has not confirmed which powertrains will be used in the Tavascan, but its likley the 299PS all-wheel-drive setup from the ID4 GTX will be utilised, alongside a 77kWh battery.
In 2025, the brand will introduce the UrbanRebel, a compact SUV that sits beneath the Born.
The compact, front-wheel-drive model will use a 226PS motor and have a range of up to 273 miles.
The UrbanRebel will be the first of three compact EVs from VW Group. Skoda and VW variants will follow, with the cheapest models expected to start from £17,000.
Cupra will also launch the Terramar, an SUV with a similar footprint to its existing Ateca model. The Terramar will be offered with a new-generation of plug-in hybrid engine, providing a zero-emission range of more than 60 miles.
Alongside the three new models, Cupra also unveiled facelifted versions of the Cupra Leon and Formentor, with redesigned front ends to bring their styling more in line with the brand's new range of electric cars.
Cupra operates an agency sales model for its electric cars, with the new Born offered via an online sales platform and under subscription contracts. The strategy includes a network of city-based pop-up shops, such as JCT600's site in Leeds Trinity Shopping Centre.