Honda UK has confirmed that pricing for its new hybrid-only Civic e:HEV hatchback will start at £29,595 when the 11th-generation model goes on sale later this year.
Completing the electrification of the Japanese carmaker's UK range ahead of its expansion from four to nine models in 2023, the new Civic will be available with the single, 184PS drivetrain option and a choice of Elegance, Sport and Advance trim levels.
Order books will open in July, with first deliveries expected in October.
Elegance trim opens the range at £29,595 and was described by Adamson as "a mid-level offering", given its level of standard specification, Honda UK head of automobile Rebecca Adamson told AM on the car's recent European launch event.
Honda Finance makes the Civic available from £349 per month on a 6.9% APR, three-year, 30,000-mile PCP agreement, including a £5,427 customer deposit contribution and £1,000 Honda contribution.
Sport models start at £30,595, with the range-topping Advance £32,995.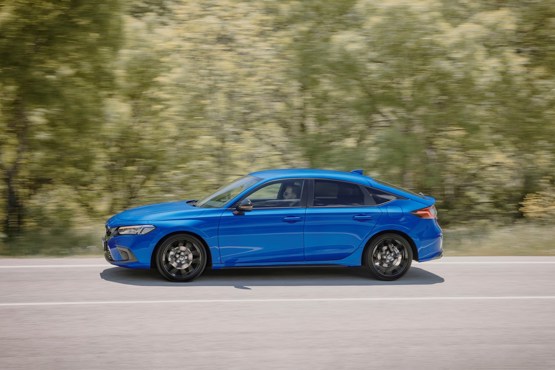 A limited number of Type R variants will also be headed to UK customers, Adamson told AM, adding that the high-performance model was "very important" to the brand.
Honda UK told AM that the retail:fleet sales split of Honda Civic sales would be 80:20 in the UK with BIK tax rates of 26% for the Civic Elegance (108g/km CO2 emissions) and 27% for the Civic Sport and Advance (113g/km and 114g/km).
The standard Civic e:HEV will accelerate to 62mph in 7.8 seconds and claims a top speed of 112mph.
Its hybrid drivetrain delivers on-paper claims of 56.5 to 60.1mpg fuel economy and CO2 emissions of 108 to 114g/km across the Civic's three trim levels, with a powerful electric motor removing the need for the combustion engine to propel the Civic in various driving scenarios.
On Elegance grade, the Civic's standard trim includes 17-inch alloys, fabric seats, front and rear parking sensors and reversing camera, a seven-inch multi-info display binnacle, and an eight speaker, Apple CarPlay/ Android Auto compatible infotainment with sat-nav.
All Civic grades are also equipped with the Honda Sensing suite of safety technologies, which include Lane Keeping Assistant System, and the new Traffic Jam Assist function.
Sport grade gains a fabric and synthetic leather seats, sports pedals, LED fog lights and unique gloss black mirrors and 18-inch black alloys.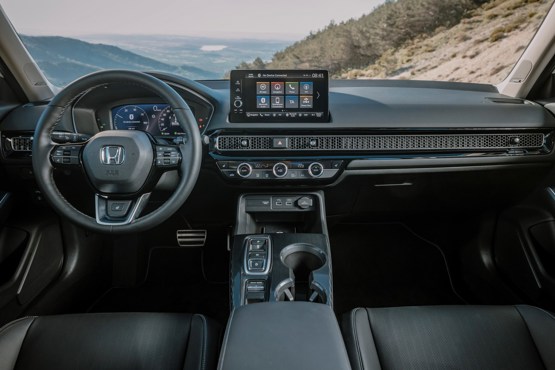 Advance includes a 12-speaker Bose sound system, a panoramic sunroof, adaptive headlights and an upgraded 10.2" multi-information display binnacle.
Two-tone black and diamond cut 18-inch alloys, leather seats and a heated steering wheel are also among its premium perks.
In an interview with AM earlier this month, Adamson said Honda UK's retail network restructure "delivered everything we said it would", with a reduced number of dealerships delivering a 3.6% return on sales on a rolling 12-month basis.
She also conceded that a future shift to an agency-style retail model was not "completely off the table" as the brand prepared for a new model offensive in 2023.
Marking the launch of Civic pricing in the UK today, she said: "The launch of the all-new Civic marks an important milestone for the brand, celebrating the iconic model with the best iteration yet.
"It has once again set the benchmark in practicality, efficiency, performance and safety, tailored to modern customer demands across Europe."
This year, the Civic celebrates its 50th anniversary having sold over 27.5 million models across 170 countries since it first launched in 1972.