Honda UK head of car Rebecca Stead has told AM that the Japanese brand's retail network restructure "delivered everything we said it would".
But, speaking at the launch of Honda's new Civic e:HEV hybrid hatchback set to arrive in the UK later this year, Stead also conceded that a future shift to an agency-style retail model was not "completely off the table" as the brand prepared for a new model offensive in 2023.
Stead revealed that the realisation of a 2019 plan to cut its network from 155 to "around about 100-to-125 with 200 retail sales" had made franchisees more profitable.
On a rolling 12-month basis, Honda UK's average retailer delivered a 3.6% return on sales, she said, with year-to-date figures showing an even stronger result.
"The results have been really positive," she said. "The changes delivered everything we said they would and that's obviously really good news for us and the network."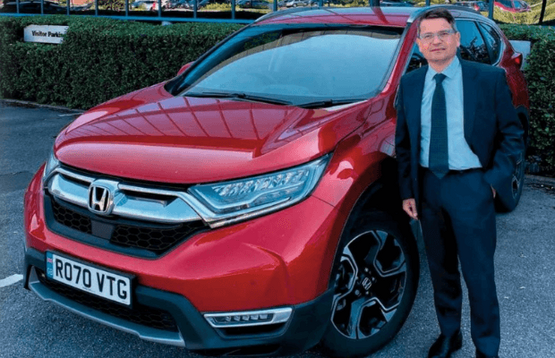 In an interview with AM at the start of this year Honda UK managing director Jean-Marc Streng said "phase one" of Honda's network restructure was nearing completion, adding that further changes would see it divided into geographic market areas.
"What we are going to propose next is a larger market area to existing dealers, but that won't involve much more reduction of outlets," he says. "We believe that with the volume we now have, the scale is about right."
Streng also told AM that Honda UK was "exploring" the agency model concept in order to see "what was possible, or not", however.
Speaking to AM last week, however, Stead said: "The challenge of agency is that there is still so much legislation that has not been finalised yet. Is it completely off the table? Absolutely not, but we'll always be transparent and open about our plans, whatever happens."
During the Honda Civic e:HEV launch event, Honda revealed that its new hatchback would be part of a model offensive on a scale that its retailers have not seen before.
The Civic completes the electrification of the entire Honda range and three new SUV and crossover models will be introduced by the end of next year, including the B-segment e:Ny1 electric vehicle (EV), a C-segment full hybrid SUV, and the all-new CR-V.
"It's exciting", Stead told AM. "By the end of 2023 we'll have a nine-car line-up, where we've previously been so reliant on Jazz in a four-car range.
"As well as the SUVs and crossover's we have Civic and a very low number of Civic Type-Rs coming to the UK, which is a very important model for the brand.
"The addition of more BEV choice is essential, though, with hybrid being the steppingstone for so many customers."