Volkswagen Group expects its vehicle supply issues to improve in the second half of 2022, with a more "normalised" model mix expected to reach its car retailers.
In a first-half trading update published today (July 28) the German car manufacturing giant reported a 2% rise in sales revenues to €132.3 billion (£110.6bn) and a 16% growth in operating profit to €13.2 billion (£11bn) in the first six months of the year.
The result was delivered as the OEM prioritised its premium brand offerings to benefit from strong margins during a period which saw deliveries decline 22.2% to 3.9 million vehicles globally.
In the UK, Volkswagen Group new car registrations declined 29.4% to 171,639 in H1.
But chief financial officer Arno Antlitz suggested that an improved supply chain would see a broader mix of vehicles become available in H2.
"The group expects the product mix to normalize in the second half of the year as the semiconductor situation improves and the company benefits from a strong order backlog," said Antlitz.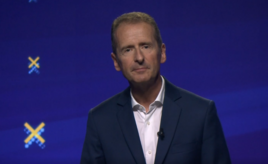 The Volkswagen Group will drive for improvements under new CEO Oliver Blume from September, after it announced that Herbert Diess would be leaving his current role.
Deiss had highlighted the impact of Russia's invasion of the Ukraine on its vehicle supplies earlier this year as he set his sights on accelerating past Tesla to achieve global EV market leadership.
Earlier this month Volkswagen said it would also "accelerate Europcar Mobility Group's transformation to become the leader in sustainable mobility through technology and data" after sealing Europcar's acquisition alongside consortium partners Attestor and Pon Holdings.
Volkswagen's prioritisation of its premium brands in H1 resulted in a 51% rise in operating profit at Audi as Porsche grew 22%.
These results came in contrast to Volkswagen, where operating profit dipped 8%.
Elsewhere, Lamborghini's profit margins reached 31.9% as Bentley achieved 23.3%.
Volkswagen's forecast of improved vehicle supply in H2 could help stem a dip in performance during Q2.
In the three months to the end of June, the OEM delivered a 28% fall in second-quarter operating profit to €4.7bn (£3.93bn) despite a 3.3% rise in revenue.
The dip was attributed to negative valuation effects from commodity hedging transactions.