Skoda dealers will begin the roll out of a brand identity update in 2024 after the carmaker revealed new emphasis on "the simplicity and value" of its new models.
The new Skoda brand logo is flat, and no longer uses sculptural 3D graphics, which the carmaker says is in "response to a growing shift in marketing activities from print to online".
Skoda corporate identity has been revised, to use two different green hues, named Emerald and Electric Green.

It says these represent ecology, sustainability and electromobility.
Its last rebrand, in 2011, made the winged arrow image more prominent and marked the start of a marketing strategy to give the marque a more modern image.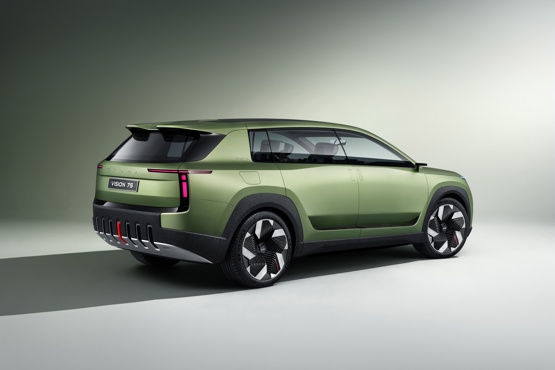 Now the winged arrow badge looks set to appear less frequently, as Skoda's Vision 7S seven-seater electric concept car also revealed today replaces it with the wording 'Skoda'.
Currently Skoda dealerships use green accent colours, as pictured right.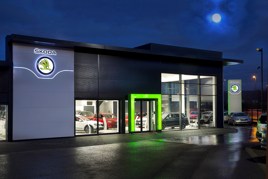 Skoda UK told AM earlier this year it had no information suggesting the changes would drive a significant investment in new CI for its franchisees.
The carmaker will update dealers marketing rules too, as it wants the Skoda name to be featured more widely than the company's picturemark in marketing communications, with its new styling using entirely different typography based on symmetry and a combination of round shapes with borders.
The simpler, two-dimensional winged arrow picturemark is more impactful, especially on mobile devices, and can also be integrated more flexibly into different formats.
The new CI will be gradually rolled out across all platforms – first in information and communication materials, and from 2024, it will also start appearing on newly launched models. The new design will also be reflected in the infotainment and other elements of Skoda vehicles. The revamp will also involve design changes to the premises of authorised partners.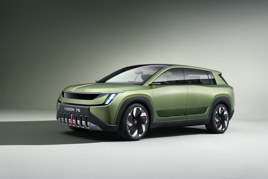 Skoda will launch three more pure electric cars - a small car, compact SUV and a 7-seater - in 2026.
Its VISION 7S provides the first specific preview of an all-new Skoda model and at the same time showcases the brand's new design language.