More than half of respondents to an AM survey (53.7%) believe the UK's established car brands will struggle to defend their market share against new electric vehicle (EV) focused entrants.
New Chinese brands such as BYD and GWM Ora have already launched in the UK and other new entrants including Omoda, Nio and B-On are all lining up to kick-start sales within the next 12 months.
However, nearly a third (29%) of AM's poll respondents are more optimistic about established original equipment manufacturers' (OEMs) chances to defend their position.
The remaining 17.4% were undecided, with some citing that there are so many factors at play that it's difficult to predict what will happen or whether certain OEMs will be driven out of business.
Robert Forrester, Vertu Motors chief executive, is certainly in the optimistic camp, telling AM in May that: "All the manufacturers we represent have clear EV strategies and to say the Chinese brands are the only ones that are going to capitalise on EV is nonsense."
However, some of the anonymous comments on the poll believe otherwise.
One respondent said: "There are so many factors to consider, not least the availability of all materials required for battery production and at the required scale going forward which is already difficult.
"The Chinese OEMs appear to have this covered in abundance. European manufacturers need to spread their base to include a mix of internal combustion engine, electric/hybrid and perhaps most importantly hydrogen."
Another respondent described the established OEMs as "letting their networks down by moving to agency", which they believe the Chinese brands will capitalise on by sticking with a franchised dealer model.
BYD is targeting to expand to a network of 100 franchised dealers by 2025, Ora wants to establish 13 locations before the end of 2023, Omoda wants over 50 dealerships in the UK before its February 2024 launch and German electric van brand B-ON is looking to establish 25 locations before 2024.
But not every new entrant is looking to partner with franchised dealers, with China's premium focused EV brand Nio looking to mirror Tesla's approach (ET5 Touring model pictured below) by entering the UK with a direct to consumer digital-first model.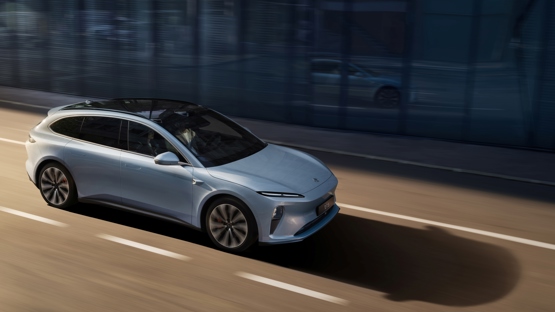 Another AM reader said changing consumer attitudes to cars and mobility in general will play in favour of the new disruptor brands.
They said: "The general commoditization of the sector, lack of brand investment and differentiation from OEMs will only accelerate this trend, especially in the mid-market volume sector."
Pricing will also be an important factor, something that MG has capitalised well on to establish itself quickly as a good value proposition in the EV space.
MG has grown by 58% in the first six months of 2023 and taken over 3% market share in the UK.
An AM reader said: "If the new Chinese brands and disruptors can launch products with sensible pricing this will put pressure on the established brands.
"Many mainstream EV prices are already in prestige price territory and out of reach of most people."
This doesn't seem to be the current strategy of brands like Ora, which is priced from £31,995, which is comparative rather than undercutting models like the Vauxhall Corsa-e.
Likewise, the BYD Atto 3 is priced from £37,695, which is similar to something like a Kia Niro EV.
One of the AM poll respondents believes OEMs will defend their position and the established OEMs are also very EV-focussed.
They said: "The established OEMs have UK market experience, technician knowledge and research and development budgets to compete alongside any new entrants to the market."
Established OEMs can also protect their market share by having a "robust ecosystem of support for customers of new EVs".
One poll respondent said: "Support with advice on adoption, home charging and EV ownership will quickly become a USP for them in the face of new entrants who will have yet to establish partnerships in those areas.
"The more they can support new EV customers with their move to electric, the more likely that customer will be willing to purchase from them now and going forward."