The least likely statistic for the month of November (and possibly the year), is that BMW took third place in the UK, bumping Vauxhall to fourth.
Nor was November a freak month – year to date, both BMW and Mercedes have a 7.2% share, while Vauxhall is on 7.4% (down from 7.6% 2017). Vauxhall, ahead by only 4,000 units, is likely to ensure enough cars are registered in December to maintain its third place for 2018, but it is by no means certain.
This raises the question of what will happen to Vauxhall in 2019 if it continues to lose market share while BMW and Mercedes continue to grow. Both BMW and Mercedes benefited in late 2018 from supply shortages at Audi, so their share in recent months has been boosted. However, with the new A- and B- Class from Mercedes, and 3 Series from BMW, helping sales in 2019, Vauxhall will need to arrest its market share decline if it is to have any hope of keeping third place in the UK.
Vauxhall's biggest problem is the Astra, which is down 38.8% and now has to face the new Focus. To be fair to the Astra, the decline is not quite as bad as it looks – total C-segment hatchbacks and estates fell by 15.3%, so almost everyone experienced a decline.
In fact, 2019 could be the year C-segment crossovers outsell traditional hatchbacks and estates. Crossover sales accounted for 42.5% of the C-segment YTD 2018, while hatchbacks and estates took 52.8% (the balance being MPVs). The corresponding share for the previous year was 34.9% for crossovers, so segment leadership is not far away, given current trends. The ageing Nissan Qashqai may be suffering now (-21%), but it shows how far-sighted Nissan was when it anticipated the rise of the crossover with the 2006 original.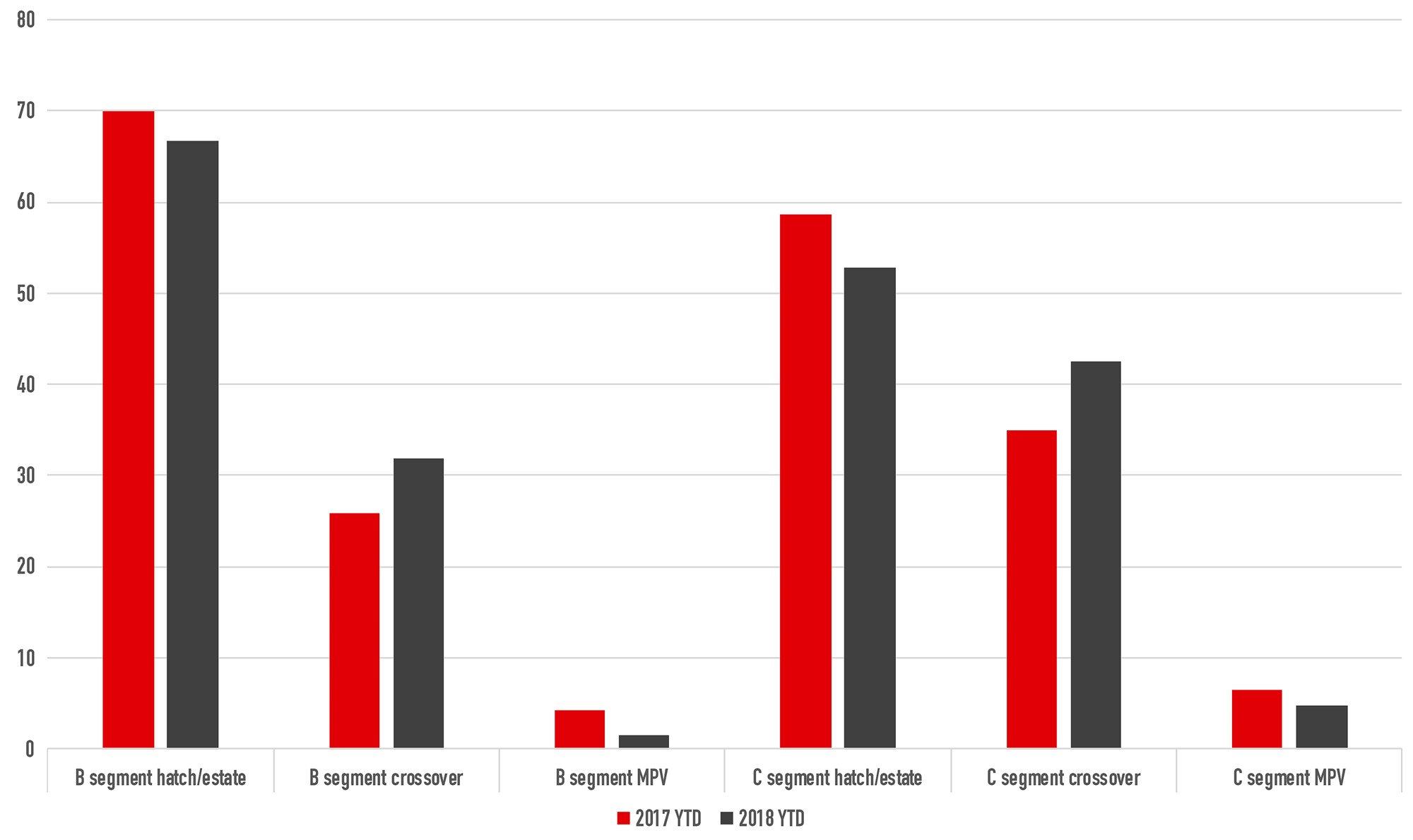 The corollary of a growing crossover sub-segment is that hatchbacks find it harder to cut through and establish themselves. There is now a long tail of C-segment hatchback models that hardly seem worth importing to the UK (a bit like the D-segment 10 years ago, when models such as the Renault Laguna hung around dealer forecourts to no particular effect). The Fiat Tipo, Renault Megane, Nissan Pulsar and DS 4 have all fallen by 50% or more this year, and none has sold more than 2,100 units YTD. Given that profit margins on C-segment hatchbacks are wafer-thin, one has to wonder if it would be cheaper to drop them. One exception is Hyundai. Despite introducing the Ioniq in 2017 (itself selling in very reasonable numbers), the i30 has actually increased sales by 6.8% this year.
In the more price-sensitive B-segment, crossovers take a smaller share, but the upward trend is similar. Crossovers took 31.8% segment share YTD, compared with 25.9% for the previous year. Within B-segment crossovers, there has been quite a lot of volatility. Despite the overall growth, the best-selling Mokka X has fallen by 11.8%, and the second-placed Juke has declined by 36.5%. Of the three biggest-selling models, only the facelifted Ecosport has increased sales (by 56.0%). It is noteworthy that, despite 2018 being the first full year of Crossland X sales, Vauxhall's share of the sub-sector has actually fallen, from 21.5% to 20.7%. That does not seem a great return on the investment in a new model.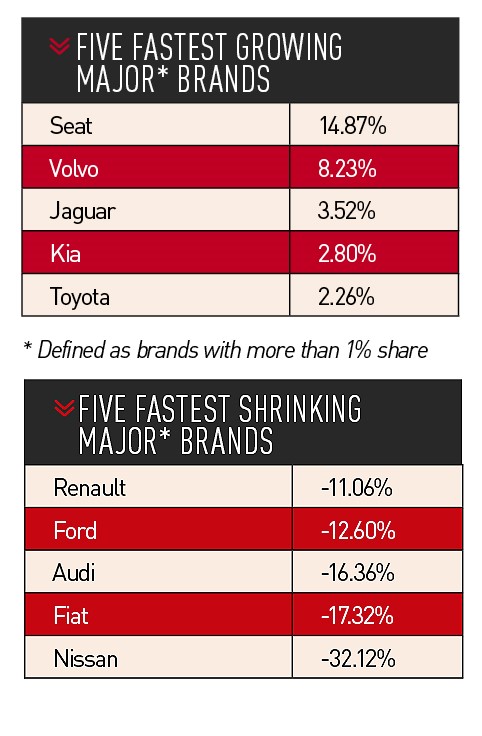 At a rather more elevated price point, Jaguar is doing well in the crossover market. Combined sales of the E-Pace and the F-Pace have reached 20,000 YTD, representing 57.7% of total Jaguar registrations. On one level, those crossover figures are very good news, but it has been achieved at the cost of the XE – sales of Jaguar's compact saloon are down 48.7%, while the XF is down 20.7%. The net result is that Jaguar's overall sales are up only 3.5%, despite all the new model activity. Could Jaguar's model range end up looking more like Porsche – a range of SUVs, a sports car and one large saloon? It is hard to imagine a financial case for replacing the XE, and even the long-running XF must be looking marginal.
On the subject of fading bodystyles, 2018 could mark the beginning of the end for affordable sports cars. The TT fell by 42.8%, which really matters to Audi, as the UK is the largest European market for the car. There is now speculation that the current TT will be the last generation, with production ending around 2021. Remarkably, the only sports car proving to be a success in the UK is the Mustang, whose sales are up 3.9% to just more than 2,200 YTD. Given that no other model (e.g. Toyota GT86, Nissan 370Z) has sold even 500 units, that is a good result – and gives Ford dealers something both eye-catching and saleable to put in the front of the showroom. The only other current model that appears to have a secure future is the Mazda MX-5. Along with its Fiat 124 Spider sister-model, it has sold more than 6,000 units so far this year.
As we approach the final sales figures of 2019, there are still some open questions, but the fastest growing major brands can be identified already. With a growth figure of 14.9% YTD, Seat is a clear number one, while Volvo is a strong number two, with an increase of 8.2%. It is no surprise that the biggest increases have come from new crossovers (Arona and XC40 respectively), but it is interesting that "traditional" models have also grown (Leon and S90/V90), showing that buyers take the brands increasingly seriously. Given the torrid time both brands experienced for more than a decade, that is an appropriate tale of redemption for the Christmas season. DAVID FRANCIS