The overall new car market declined by 6.8% in 2018, to 2.37 million registrations, but movements within particular segments have been far more extreme, with no fewer than four segments falling by more than 20% (see chart below).
The D segment (e.g. Ford Mondeo) fell by 26% to just 2.4% market share. Only two models (Vauxhall Insignia and VW Passat) sold more than 10,000 units, which calls into question the viability of the segment.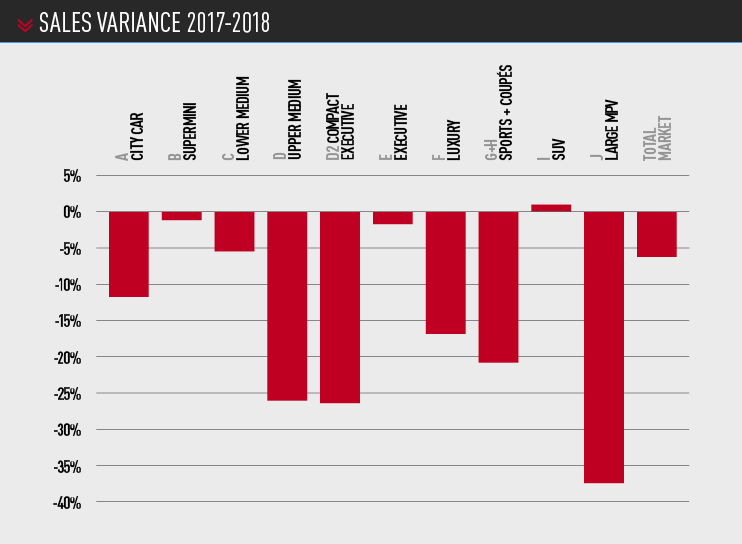 Traditionally, the UK has been the second-largest market in Europe for such cars, however there is no sign that the rest of Europe will come to the rescue. Total 2018 figures are not yet available for all European markets, but the indications are that only the VW Passat, Škoda Superb and Opel/Vauxhall Insignia sold more than 50,000 units across the continent. It is hard to see how any European-made D-segment models can be viable at volumes of 50,000 or fewer.
The D segment's half-brother, the Compact Executive segment, fell by a near-identical 26.2%. The segment is still easily large enough to be viable, at 5.2% market share, but the issue here is the degree of concentration. German brands accounted for 87.4% of total sales, with BMW selling more 3 and 4 Series in the UK than Ford sells Mondeos across the whole of Europe. That means other brands are pretty well locked out of the segment – as Jaguar (XE) and Alfa (Giulia) have discovered to their cost.
Another long-established segment in serious decline is specialist sports cars and coupés, spanning the whole spectrum from the Mazda MX-5 to the Lamborghini Aventador. It has fallen by 20.7%, to 1.4% market share, the lowest level since records began. The key losses have come from small coupés, which have effectively ceased to exist, barring a few hundred examples of the Toyota GT86/Subaru BRZ. Luxury coupés and sports cars (e.g. Porsche 911) have fared much better, with sales down only 6.8%.
The segment that has suffered the biggest fall has been large MPVs, with sales down a remarkable 37.5% to just 1.2% market share – barely more than a rounding error. Some 40% of sales come from the two car-based ranges (Ford S-Max/Galaxy and VW Sharan/Seat Alhambra), and almost everything else is van-based, apart from a few run-out Zafira Tourers. Given current sales volumes, all MPVs will probably be van-based in the near future.
The only segment to actually increase sales in a falling market was, inevitably, SUVs, which rose a fractional 0.3%. As an aside, it is worth saying that we do not define B- or C-segment crossovers such as the Mokka X or Qashqai, as SUVs, as they are basically tall hatchbacks. We categorise SUVs as either full-size models such as the Hyundai Santa Fe, or luxury models from the Range Rover Evoque upwards.
The biggest growth (17.7%) in SUVs came from large luxury models, such as the Range Rover Sport. Interestingly, JLR registrations in this segment grew by 22%, mostly thanks to the Velar, so JLR's problems are coming from smaller SUVs and Jaguar saloons, not from big heavy diesel off-roaders.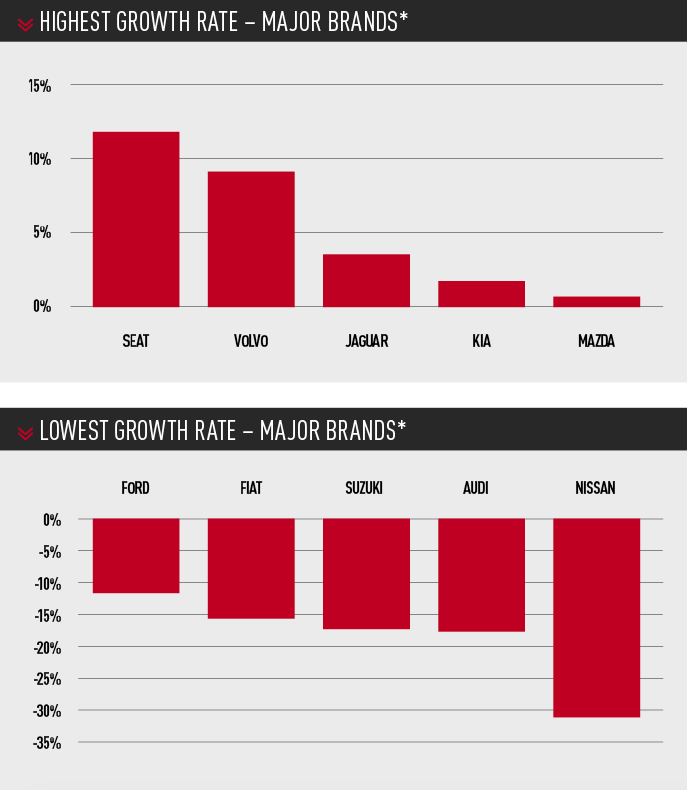 At a manufacturer level, Ford had another poor year (-11.6%), mostly due to the Focus model change this year (the Focus lost 19,400 sales in 2018, which is 0.8 percentage points of market share). For the first time in quite a few years, Vauxhall actually lost fewer sales than Ford, although the decline of 9.1% was still worse than the overall market.
Paralleling Ford, Vauxhall's biggest loser was the Astra, which lost 17,800 sales – but without a model changeover to provide some consolation. On the positive side, Vauxhall did manage to maintain third place in the manufacturers' table, staying 0.2 percentage points (or 5,000 units) above Mercedes and BMW. However, if present trends continue, both German brands will overtake Vauxhall in 2019. In the end, Mercedes pipped BMW to fourth place by just 190 units – it would be interesting to know how many cars each registered in the last three working days of December.
Of the other German brands, VW (second place) outperformed the market with a fall of 2.6%, but Audi (sixth place) fell heavily (-17.9%). Given that Audi was almost level pegging with BMW and Mercedes for the first half of 2018, the decline is likely to have been a one-off event related to problems homologating cars to the new WLTP standard.
Taking the market as a whole, the question at the end of each year is who deserves the biggest pat on the back, and who deserves to wear the dunce's cap? The sales equivalent to "Driver of the Day" has to be Seat, whose sales rose by 12%. Seat has now overtaken Renault, Honda and Citroën and has finally become a mainstream brand. An honourable mention should also go to MG, not a brand ever previously quoted in this context. Sales are still modest at 9,000, but they are up 103.8%, and even 9,000 sales are 50% higher than Jeep managed.
It seems harsh to give a dunce's cap to Nissan when it is still the biggest Japanese brand in the UK, and it has an exemplary factory in Sunderland. However, it is hard to overlook a sales fall of 32.1%, which is easily the biggest of any major brand. Both the Juke and the Qashqai lost 14,000 sales in 2018, as these models are now wilting somewhat in the face of stiffer competition. There is also a suspicion that Nissan was pulling the sales elastic very hard in 2017, and it has now snapped back rather painfully.
The evidence comes from the fact that Nissan was rock-bottom in the Summer 2017 NFDA Dealer Ratings for both self-registrations and new car targets. A dishonourable mention should also go to Alfa Romeo, whose sales fell 16.7% to just 4,200 units. With two major new models in the Giulia and, especially, the Stelvio, sales should be taking off, not drifting towards oblivion. David Francis