February's new car sales finished 1.4% up year-on-year at 81,969 registrations, as private and business purchases increased.
Diesel cars dropped to just 30% of the sales mix, with petrol cars taking a 65% share and the remainder being alternative fuelled vehicles (AFVs) such as hybrids and pure electric cars.
The Society of Motor Manufacturers and Traders noted it has been the 22nd consecutive month of sales growth for AFVs.
There are already around 40 plug-in hybrid cars in the UK market, with another 20 expected to launch during 2019, said the SMMT.
Its chief executive Mike Hawes (pictured) said: "It's encouraging to see market growth in February, albeit marginal, especially for electrified models. Car makers have made huge commitments to bring to market an ever-increasing range of exciting zero and ultra low emission vehicles and give buyers greater choice.
"These cars still only account for a fraction of the overall market, however, so if the UK is to achieve its electrification ambitions, a world-class package of incentives and infrastructure is needed.
"The recent removal of the plug-in car grant from plug-in hybrids was a backward step and sends entirely the wrong message. Supportive, not punitive measures are needed, else ambitions will never be realised."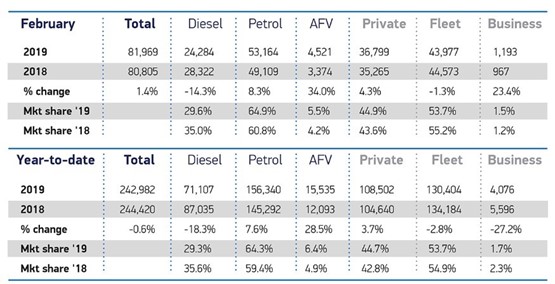 Since the reform to the Plug-in Car Grant last October, PHEV sales have risen at only 1.7%, compared with 29.5% over the first 10 months of 2018, said the SMMT.
"This suggests that removing the incentive for PHEVs is having an adverse effect," it added.
February's car sales to private buyers were 4.3% up on February 2018, at 36,799, and business sales increased 23.4% to 1,193.
However fleet demand slipped by 1.3% to 43,977 registrations.
More new car registrations data
New car sales figures for each manufacturer
New car sales per franchised outlet