The UK's new car sales market declined once again as April's registrations ended 4.1% down with the month's second lowest registrations total since 2012, the SMMT has reported.
A total of 161,064 units were registered last month as private registrations fell by 10.3% following a rise of more than 26% in April 2018, according to the the Society of Motor Manufacturers and Traders (SMMT).
Fleet demand, meanwhile, remained stable, growing 2.9%, with these businesses registering 2,498 more cars than in April 2018.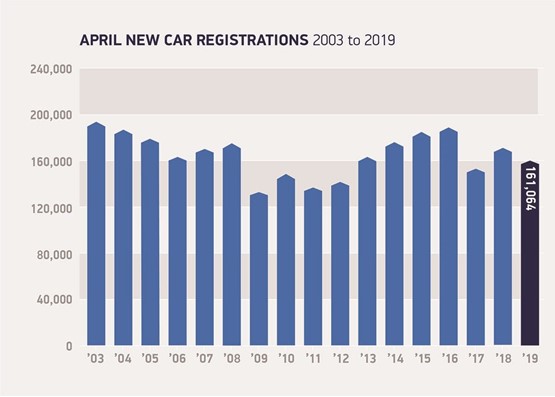 The SMMT again called for Government to put policies in place to help capitalise on consumer demand for electric vehicles (EVs) after the alternative fuel vehicle (AFV) grew by 12.7%, despite a decline in sales of zero emission-capable plug-in hybrids fall by more than a third (34.4%).
Battery electric cars recorded a strong uplift, from 929 to 1,517 units, but still only represent 0.9% of the market.
SMMT chief executive, Mike Hawes, said: "While it's great to see buyers respond to the growing range of pure electric cars on offer, they still only represent a tiny fraction of the market and are just one of a number of technologies that will help us on the road to zero.
"Industry is working hard to deliver on this shared ambition, providing ever cleaner cars to suit every need.
"We need policies that help get the latest, cleanest vehicles on the road more quickly and support market transition for all drivers.
"This includes investment in infrastructure and long term incentives to make new technologies as affordable as possible."
Manufacturers are investing heavily to bring ultra-low and zero emission cars to market, with some 40 plug-in models now available in showrooms, and over 20 more expected to arrive in 2019.
However, if this still emerging sector is to reach meaningful levels, measures and incentives that build business and consumer confidence will be vital.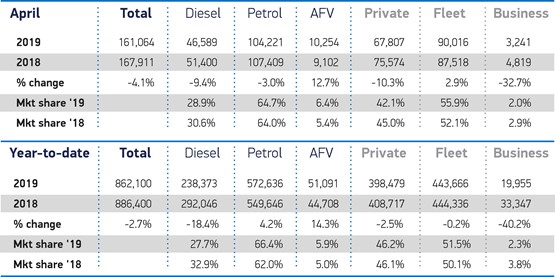 Diesel vehicle registrations fell 9.4% during April, with the pace of decline having slowed significantly, according to the SMMT's data, as petrol demand also dropped, by 3%.
Sue Robinson, director of the National Franchised Dealers Association (NFDA), said that the new car market had been adversely affected by Easter falling in April this year, which, alongside the warm weather, caused a slowdown in physical footfall to dealerships.
She added: "Positively, there continues to be solid demand at franchised dealerships for used and nearly new cars, which provide excellent opportunities for all types of motorists.
"The aftersales segment also remains strong and recent evidence showed very high levels of consumer satisfaction with the service provided by franchised retailers, especially for alternative fuel vehicles.
"We expect franchised retailers to increasingly benefit from the growing popularity of this segment.
"The uncertainty surrounding Government's decisions on Brexit continues to affect consumer behaviour in the new car market.
"It is vital that clarity on the UK's future relationship with the EU is provided as soon as possible."
Seán Kemple, director of sales at Close Brothers Motor Finance, said: "It's disappointing to see another month of decline in car sales, especially after last month's figures fell against expectations. There was some optimism in the sector that the Brexit delay would boost consumer confidence, but it looks like the extension is too little too late.
"It's not just Brexit hitting the sector though. The ramifications of WLTP are still being felt. Would-be buyers are being put off by huge waiting times on a number of makes and models, and dealers are struggling to fill their forecourts with the vehicles customers want. We're seeing drivers switch gear, shifting their new car demand onto used or holding off altogether.
"For dealers, it's absolutely crucial to have your finger on the pulse of customer demand. There are opportunities within the existing customer base, whether that be offering different models, fuel types, or finance offerings.
"It's also a good time to brush up on the aftersales proposition for customers who plan to hang on to their vehicle for a little while."
MORE DATA
New car sales per franchised outlet