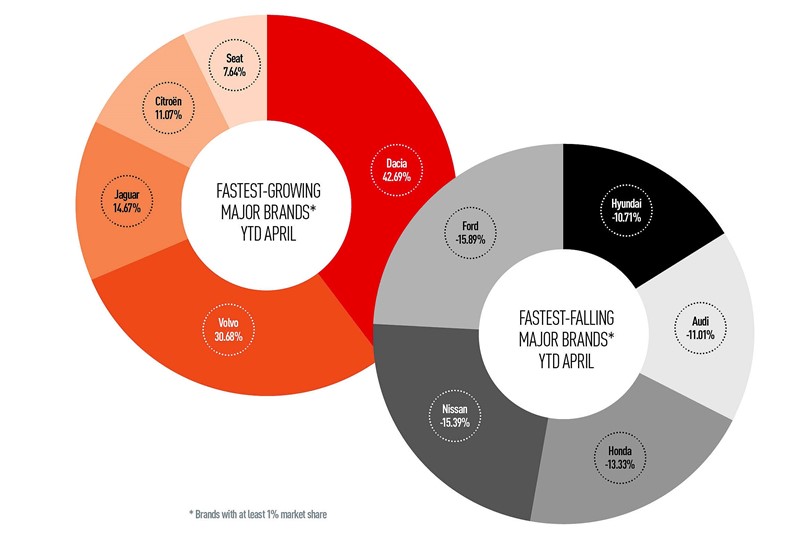 April's overall market decline of 4.1% was not terrible, but at 161,000 vehicles, it was the second-lowest April registration figure since 2012. More worrying, perhaps, was the 10.3% decline in registrations to private customers (fleet sales were up 2.9%).
What seems to be happening is that Brexit is making private buyers increasingly nervous, but companies still need the same number of cars on their fleets. Total year-to-date registrations are down by 2.7% year-on-year, which is a respectable figure under the circumstances.
At a manufacturer level, market-leader Ford continues to have a torrid time. Market share is 10% YTD, due to a 15.9% decline in registrations. The main culprit is the once all-conquering Fiesta, which is down 28.4% so far this year. That means the forthcoming Puma B-segment crossover will have a lot of work to do – at least with a Fiesta platform, it should drive better than the Ecosport.
Even the new Focus (up 9.8%) is not without its issues – it is neck-and-neck with the Golf for segment leadership, but it is only 1,000 units ahead of the Mercedes-Benz A-Class. Could we see Mercedes take segment leadership of the small family car segment in the UK? When the wobbly, badly-made 1997 A-Class first appeared, the idea that it would one day vie with Ford for the No.1 spot would have seemed preposterous.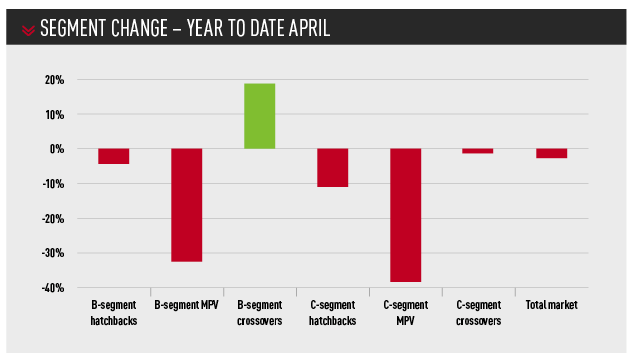 In second place, VW continues to make progress, with market share up to 8.7% YTD, from 8.1% in the same period of 2018. This is mostly due to the new Polo and the T-Roc C-segment crossover. Immediately behind VW is Vauxhall, who actually managed to increase market share (7.6% YTD vs 7.4%). However, Mercedes, in fourth place, managed to outsell Vauxhall in the month of April (YTD, Mercedes is slightly behind at 7.4%). Mercedes will be also pleased that it is maintaining its significant lead over BMW, which has a 6.7% market share YTD.
The third member of the German premium brand club, Audi, is still struggling to recover from the sales fall caused by problems homologating cars for the WLTP emissions tests in late 2018. Market share is down to 6.3% YTD from 6.9%, but
few doubt that Audi will soon recover its market share losses.
The other brands in the Top 10 are all Asian – two Japanese and two Korean. If you regard VW as a semi-premium brand (positioned somewhere between Ford and Audi), that means there are no mainstream European brands represented. That is a huge change over the past 15 years: both Peugeot (now 11th and Renault (now 15th) were once major players in the UK market.
The situation with the UK's most important manufacturer, Jaguar Land Rover, is mixed. Land Rover's market share was up slightly from 3.3% to 3.4%, with most models either stable or growing slightly. However, the Discovery is still in serious trouble, with registrations falling by 24.3% YTD. The Discovery, once Land Rover's heartland car, is now the company's slowest-selling model. It is being outsold 2:1 by the Velar. What the sales mix was intended to be at launch is unclear, but it is a pretty safe bet that the Discovery was intended to be a bigger seller than the niche Velar.
At Jaguar, there is some progress. Market share is up from 1.4% to 1.6% YTD, mostly thanks to the new I-Pace. The XE and XF have increased registrations slightly, but they are still behind the equivalent Volvo models (S60/V60 and S90/V90 respectively). Jaguar will be very disappointed that they cannot sell more executive saloons in their home market than Volvo.
On the subject of Volvo, the company continues to be the star performer of the whole market, with registrations up 30.7% YTD, and market share up from 1.7% to 2.3%. The best performance has come from the XC40, which is currently outselling both the Audi Q3 and BMW X1, but almost all Volvo models are showing gains. For the first time this century, Volvo is making models that can win against the three big German premium brands.
The other major winner has been Dacia, albeit from a lower base (in terms of both sales and market position). The new Duster has led to a rise in market share from 1% to 1.5%, although it was always expected that a new Duster would make a big impact – it is their most significant model, as it adds character to the usual Dacia recipe of low prices.
At a segment level, the story is of continued consolidation. That may seem a strange thing to say when the number of models on sale appears to be proliferating, but the B and C segments now jointly account for close to two thirds of total sales – 56.8% to be precise. There are more crossover variants of superminis and small family cars on the market, but that is coming at the expense of other sectors. The supermini segment is sucking sales out of the A segment (city cars), which has seen market share fall to 6.8% YTD from 7.3%. Similarly, the small family segment is destroying the D segment (large family cars such as the Mondeo), which is down to 2.1% YTD, from 2.7% a year earlier. Even specialist sports cars have fallen sharply, from 1.6% to 1.2%, and most of those sales are of luxury models, such as the Porsche 911. Young people tend to associate "cool" with a chunky-looking crossover, not something small with two seats.
Indeed, some non-premium segments are dropping so fast they may, in effect, cease to exist. The industry has traditionally treated large family cars, affordable sports cars/coupés, and large MPVs as discrete segments. With combined market share of all three segments now below 3% of the market, it may no longer be worth even measuring them, let alone make products to sell in them. DAVID FRANCIS