The point of sale (POS) car finance market posted year-on-year declines of 3% by volume and 2% by value across both new and used car sectors during June, according to the Finance and Leasing Association (FLA).
The FLA's monthly report, compiled from a sample of providers made up of a membership that account for 91% of the market, showed that the a total of 198,782 new and used car purchases were funded by point of sale finance during the final month of H1, 2019 – with the value of advances declining to £3.11bn.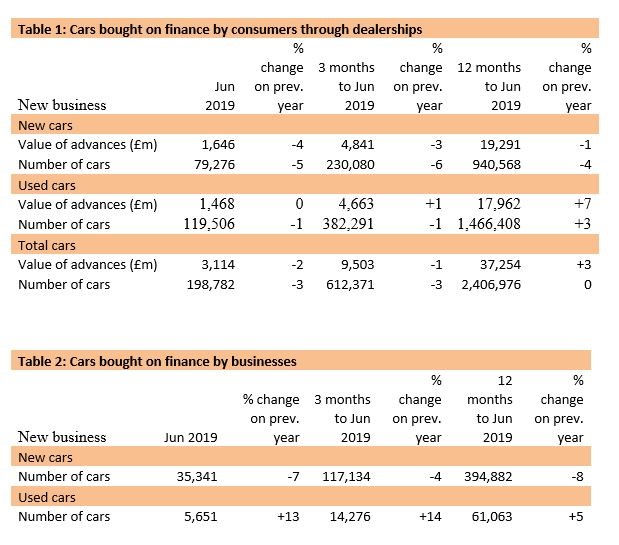 The Society of Motor Manufacturers and Traders (SMMT) reported a 4.9% decline in new car sales during June, leaving the market down 3.4% YTD at that point.
In a rolling 12 month basis to June 30, the number of vehicles financed remained flat at 2.4 million, with advances of £37.25bn representing a 3% rise during the period.
New car activity formed the largest portion of the decline, with a 4% year-on-year decline in the value of advances in June (£1.65bn) and a 5% decline in vehicle volumes (79,276).
In used cars the value of advances remained flat at £4.66bn and volumes declined marginally (1%) to 382,291 during the month.
Geraldine Kilkelly, head of research and chief economist at the FLA, said: "The POS consumer used car finance market reported a record total for new business volumes in the first half of the year of almost 772,000 vehicles, while the modest fall in POS consumer new car finance in the first six months of 2019 was in line with wider trends in private new car sales."
Finance volumes from business sales declined by 1%, according to the volume of vehicles financed during the month published by the FLA.
The volume of new cars funded by businesses declined by 7% as the volume of used cars rose by 13%.
While the FLA does not publish the value of its members transactions in the business sector, it said that the "value of new business remained at a similar level to June 2018".