The Society of Motor Manufacturers and Traders (SMMT) has highlighted a "failure to make back spring Brexit shutdown losses" despite a 3.3% growth in UK car manufacturing volumes during August.
The industry body said that 92,158 units rolled off the production lines at UK car plants last month as output for domestic market grew by 15.2% ahead of the key numberplate change month of September and exports remained stable, rising 0.6%.
The result was not enough to compensate for April's 56,999-unit loss, however.
Year-to-date UK vehicle production volumes remained down 17% (at 866,918) following factory closures implemented by BMW and Jaguar Land Rover (JLR) to mitigate the effects of a March 29 Brexit deadline that failed to result in the UK's departure from the EU.
It is the first time in five years that the UK's car manufacturing output has failed to reach one million units by August in five years.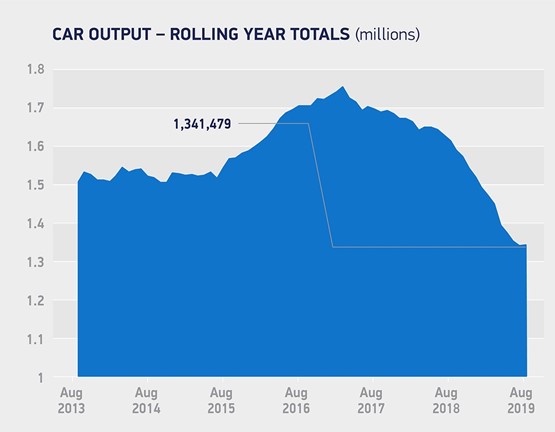 SMMT chief executive, Mike Hawes, said: "While growth is always welcome, today's figures mask the underlying downward trend and strengthening global headwinds facing the sector, including international trade tensions, massive technological upheaval and, in the UK, political and economic uncertainty.
"Softening of global demand is compounding the challenge to UK manufacturers for whom a 'no deal' Brexit would be a hammer blow.
"The mere threat of 'no deal' has undermined investment and the potential imposition of tariffs, border delays and additional administrative burdens would damage competitiveness.
"We now need parliament and government to redouble efforts to get a deal that maintains free and frictionless trade. Given the ongoing challenges and costs being incurred, there is not a moment to lose."
Earlier this week Hawes joined 21 colleagues from similar trade bodies across the EU in signing a joint statement to express concerns about a potential 'no deal' Brexit shared by OEMs and manufacturing operations across the region.
The SMMT said that the UK's production gain during August could be partly attributed to the fact that last year's volumes had been affected by preparations for the roll-out of WLTP.
It said that the growth in domestic demand also disguised ongoing weakness in major global markets as production for the Chinese market declined 43.8%, exports to the US fell 9.1% and those to the EU 13.7%.
"However, exports still account for eight out of every 10 cars built in Britain – with the EU taking more than half (55.4%)," the SMMT added in its statement.

The Society of Motor Manufacturers and Traders (SMMT) has warned that up to £1,500 could be added to the price of a new car in the UK in the event of a 'no deal' Brexit as World Trade Organisation rules trigger a 10% tariff on imports.
The SMMT later sought to dispel what it referred to as 13 common Brexit 'myths' as part of its campaign to maintain fictionless trade agreement with the EU.
During interviews at the Frankfurt Motor Show earlier this month the bosses of BMW and Jaguar Land Rover (JLR) both spelled out the difficulties they face in dealing with the impact of Brexit, including the prospect of further plant closures during October as another departure deadline looms.
And, speaking to AM at the recent launch of the XCeed crossover, Kia UK managing director Paul Philpott said that up to 20% might have to be added to the price of its new vehicles in the event of a 'no deal' Brexit.
Its big-selling Ceed range is imported from mainland Europe.