Kia Motors UK managing director Paul Philpott has said that the brand can achieve 120,000 vehicle sales after projecting a record 97,000 sales for the brand in 2019.
Speaking at the international launch of the new XCeed crossover – which the brand expects to account for 50% of all UK sales of the Ceed in 2020 – Philpott revealed to AM that the Korean brand expected to continue driving growth in a faltering market.
"This year we'll finish with around 97,000 sales, which is our best year ever and up 2% in a market down by 3 or 4%," said Philpott, who was buoyed by another top result for the brand in the bi-annual National Franchised Dealers Association (NFDA) Dealer Attitude Survey.
"I'd love to achieve 100,000 sales but we have a long term plan without a deadline on it. I think we can get to 120,000 in the UK without materially changing our strategy.
"Beyond that you need to become a different scale player in the fleet market. That would be dictated by supply and capacity.
"We've shared that plan with our dealers."
Data published by the Society of Motor Manufacturers and Traders (SMMT) today revealed Kia's new car registrations were up by 2.2% to 63,799 (2018: 62,427) year-to-date to the end of August.
NFDA Survey result
Philpott said that he was "delighted" with the brand's strong showing in the NFDA Survey published this week and said that it showed that a large sample of the businesses behind its 191 franchised sites were "pretty happy" with the brand and the way it was being run.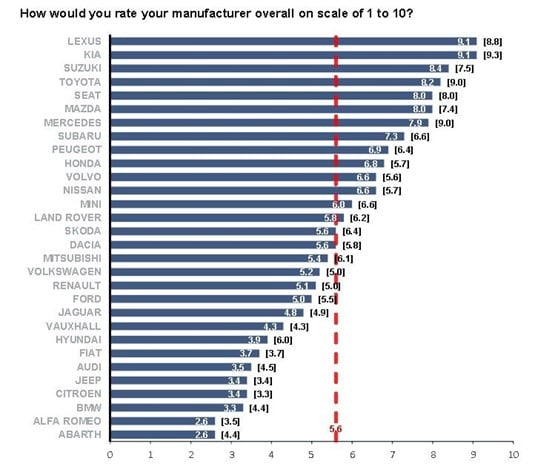 The brand - the AM Awards 2019's Franchise Partner of the Year winner - finished joint top in the rankings when dealers were asked to rate their franchised partner overall, with a score of 9.1-out-of-10.
He said that reasonable manufacturer standards, a culture of not pushing product into the market and a flow of new product had kept dealers happy.
"Importantly, our dealers continue to be profitable. Not soar-away profitable, but solid, consistent performers," he said.
"As we stand now the network is achieving and average 1.3% return on sales. That's marginally up on last year and I'm hopeful that we can maintain that to the end of the year."
Brexit concerns
Like other manufacturers Kia is cautious about the effects of Brexit, however.
Philpott told AM that the brand was stockpiling parts and vehicles in anticipation of difficulty surrounding imports and said that, were tariffs introduced, car prices might have to rise by up to 8%.
The crucial Ceed range is European built and would be hardest hit by any change in the relationship with the EU, he said, with cars imported from Korea potentially benefiting from a new free trade deal which could soon be finalised between the UK and Kia's home territory.
Philpott also expressed concerns about 2020 emissions targets which require OEMs' overall sales to average 95g/km next year.
He said: "The UK government has said that we have to honour those targets but if we leave the EU it means that the UK would have to meet them as a single territory. That means we lose the benefit of all those EV sales in Norway.
"As a market, we have seen the Sportage do really very well, which would clearly put us at a disadvantage as far as emissions targets go."
Kia XCeed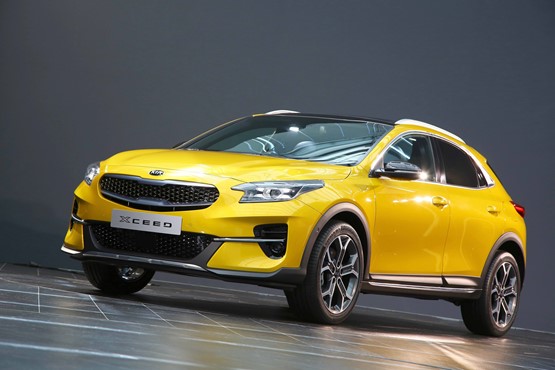 Kia's franchisees have already been able to take a look at the new XCeed but few may have imagined the scale of success that the brand expects from its latest addition to a packed C-Segment line-up.
The crossover fits into the range between the Ceed hatchback and Sportage and follows the introduction of the Ceed Proceed shooting brake earlier this year – filling a gap left by the departing Venga B-segment MPV.
"XCeed will account for a large portion of our Ceed sales," revealed Philpott.
"It's extremely important to us. Next year we expect to sell around 9,000 XCeed. Without that, this year, we will sell around 11,000 units of Ceed. Overall we'll sell around 18,000 from the Ceed family next year, so this is going to be a big player for us."