New car registrations rose just 1.3% as the key numplerplate change month of September saw the sales appeal of the new 69-plate struggle to overcome consumers' "Brexit anxiety".
Monthly registration's data published by the Society of Motor Manufacturers and Traders (SMMT) showed that 343,255 new cars joined British roads last month but the modest year-on-year growth came in comparison with a period heavily disrupted by the introduction of WLTP and left this year's registrations trailing 49,000 units behind same period in 2018.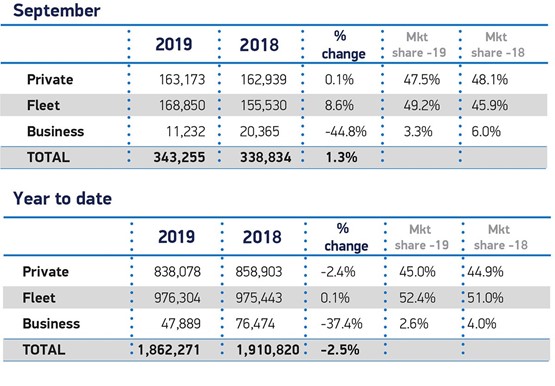 September 2018 saw registrations plummet by 20.5% as a result of the new emissions legislations, with just 338,834 new cars entering the market.
The 1.86 million vehicles registered in the UK so far this year leaves the market 2.5% down year-to-date and marks the sector's lowest performance since 2013, the SMMT said in a statement published today (September 4).
It added: "It is also in stark contrast to other major European markets, which this September rallied in double digits."
SMMT chief executive, Mike Hawes, said: "September's modest growth belies the ongoing downward trend we've seen over the past 30 months.
"We expected to see a more significant increase in September, similar to those seen in France, Germany, Italy and Spain, given the negative effect WLTP had on all European markets last year.
"Instead, consumer confidence is being undermined by political and economic uncertainty."
He added: "We need to restore stability to the market which means avoiding a 'no deal' Brexit and, moreover, agreeing a future relationship with the EU that avoids tariffs and barriers that could increase prices and reduce buyer choice."
The SMMT's analysis of September's new car registrations showed that volumes were driven by the fleet sector, which grew 8.6%.
Meanwhile, private demand remained stable, up 0.1%, while business registrations declined by 44.8%, it reported.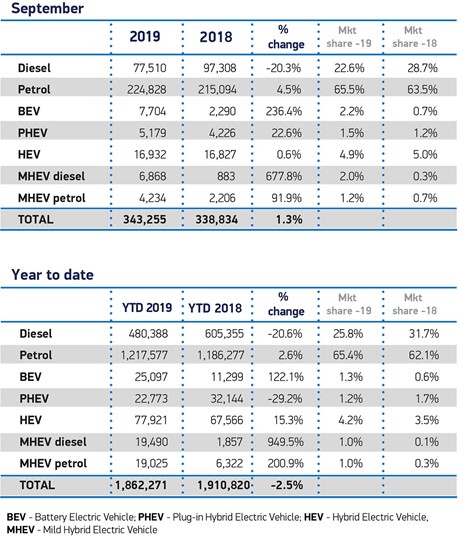 Diesel registrations declined by 20.3%, as petrol powered vehicles experienced a moderate increase of 4.5%.
Electric vehicles (EVs) – classified as battery electric cars (BEVs) by the SMMT – delivered the biggest percentage growth of all fuel types, up 236.4% (5,414 units) as the arrival of new models including the Tesla Model 3 and MG ZS EV boosted registrations.
The SMMT added: "Plug-in hybrids (PHEVs) also saw growth for the first time in six months – albeit on the back of a 22.3% decline in the same month last year.
"Year-to-date PHEV registrations are now 5.2% below the same period two years ago. By comparison, popular hybrid electric and battery electric cars are up 32.4% and 125.1% on the same period."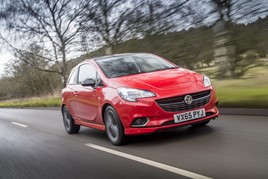 The best-selling car during September was the Vauxhall Corsa, which leapfrogged the Ford Fiesta (11,634) with 12,921 registrations in its run-out year, ahead of the arrival of a new-generation model in January.
Commenting on September's new car registrations data, Sue Robinson, director of the National Franchised Dealers Association (NFDA), said: "New car sales were up by just 1.3% in September as, despite stable footfall and online enquiries, consumers delay their new car purchases as a result of the continued political uncertainty.
"Positively, sales of pure electric cars increased significantly. The upward trend will continue as supply improves and more models become available.
"There continues to be strong consumer interest in used cars. While new car supply constraints ease, many motorists are choosing to opt for second-hand vehicles.
"It is vital that the Government provides clarity to businesses and consumers as soon as possible so as not to undermine the stability of the automotive sector, one of the key contributors to the UK economy."
Last month the SMMT joined with its automotive manufacturing body counterparts from across Europe to appeal to the UK Government to avoid a 'no deal' Brexit at all costs.
It followed the comments of various car manufacturer bosses who voiced their fears about the split at last month's Frankfurt Motor Show.
Auto Trader director, Ian Plummer, said that there were clear signs that Brexit anxiety was effecting UK car sales within the September registration's results. He said: "September and year to date figures have been more positive than was expected but the natural slowdown of the market and continued Brexit anxiety will be weighing heavily on the minds of consumers, brands and retailers.
"As they focus on hitting their annual targets, both manufacturers and retailers have been using tactics – such as self-registrations – to artificially buoy the numbers and overstate the natural level of demand for new cars, because they just aren't seeing the consumer demand to reach the figures they need to organically.
"This push activity will almost certainly continue next month ahead of the Brexit deadline, as the industry prepares for whatever the 31st has in store.
"Looking ahead, the CAFE (Clear Air for Europe programme) is going to alter messages consumers have become accustomed to about fuel type.
"Brand new diesels have lower CO2 emissions than their petrol equivalents so, as manufacturers look to avoid steep fines as a result of CAFE rules, and keep their fleet of cars sold under the threshold of total emissions they could even end up having to push diesel sales.
"And to do that goes completely against current consumer sentiment on fuel types, so they'll need to incentivise the sale of diesels instead of petrol cars."