The Mayor of London Sadiq Khan will give low income and disabled Londoners the chance to swap into a lower emitting new vehicle with the extension of the capital's £2,000 vehicle scrappage allowance scheme.
The extension of a £23 million programme initially launched to help small micro businesses, sole traders and charities wanting to scrap older vans adapt to the clean air policy ushered in with the arrival of the Ultra Low Emission Zone (ULEZ), the scheme could prompt an influx of new customers to car retail sites inside the M25.
Drivers living in one of the 32 London Boroughs or in the City of London can claim £2,000 to scrap a car or £1,000 to scrap a motorcycle through the scheme as long as both they and their vehicle meet requirements set out by Transport for London (TfL).
Car owners' existing vehicles will only be eligible for the scrappage scheme if they have been registered with the DVLA (Driver and Vehicle Licensing Agency) have been owned for more than 12 months prior to October 23, 2019.
London has already adopted a target of meeting World Health Organisation (WHO) air quality guidelines by 2030 and the planned expansion of the scrappage scheme comes exactly two years before the planned expansion of the mayor's Ultra Low Emission Zone up to the North and South Circular roads in 2021.
Polluting vehicles account for about 50% of London's harmful air emissions, according to Sadiq Khan's office.
City Hall claims that air pollution has an economic cost to the capital of up to £3.7bn and a £20bn cost to the country every year.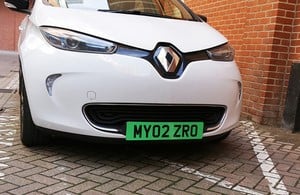 News of Khan's extension of the London ULEZ vehicle scrappage scheme comes just a day after Government announced its plans to roll-out green number plates for pure electric vehicle (EV) as part of plans to "turbo-charge" the adoption of zero emissions vehicles.
While Geely's London Electric Vehicle Company (LEVC) taxis – as sold in London by Endeavour Automotive – have recently led a push to clean-up London's public transport system with the introduction of hybrid black cabs, Khan today (October 23) attended the launch of the new fully-electric Dynamo taxi cab.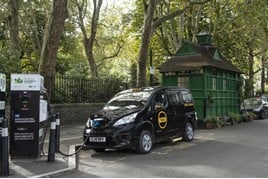 Billed as the first 100% electric, zero emission, 'Hackney Carriage' to hit the capital's streets in 120 years (the electric Bersey Taxi, was introduced in 1897 and was operational until 1899), the £47,995 Nissan e-NV200 Evalia MPV-based Dynamo claims to offer a range of up to 187 miles from a single charge (WLTP City) and supports CHAdeMO 50kW rapid charging.
New Minister for the Future of Transport, George Freeman said: "Seeing the iconic black taxi joining the electric revolution and help in the fight to reduce poisonous emissions is fantastic. Dynamo's latest innovation launched today will help the UK continue to progress towards our net zero target by 2050.
"The Government is supporting the growing uptake of electric vehicles, investing nearly £1.5billion through our Road to Zero programme, and £400 million through a joint Government and industry Charging Infrastructure Investment Fund for electric charging."
Speaking to the BBC about today's decision to extend the ULEZ scrappage scheme, Green Party London Assembly member Caroline Russell suggested that investment in low-emission public transport solutions, rather than car ownership, was essential if London was to meet its ambitious emissions goals.
She said: "Too many Londoners feel forced into car use and ownership. The mayor must invest, throughout London, to make walking, cycling and public transport easy choices for everyone."
In May digital marking consultants at Sophus 3 revealed data which suggested car buyers' interest in electric vehicles (EVs) had peaked following disruptive protests by environmental activists Extinction Rebellion in London.
Scott Gairns, managing director, Sophus3, said: "All of our analysis in recent years has pointed to EV sales requiring both 'carrots' and 'sticks' for the consumer as we closely monitor how the online car shopper behaves when researching cars."