The Society of Motor Manufacturers and Traders (SMMT) has reported a 1.3% decline in new car registrations during November as private and business demand continued to falter.
Year-to-date vehicle registrations were down by 2.7%, at 2.2 million, following another month of the decline for the market – with 156,621 vehicles registered last month.
The SMMT said that multiple factors, including weak business and consumer confidence, economic uncertainty and confusion over diesel and clean air zones, had combined to affect demand.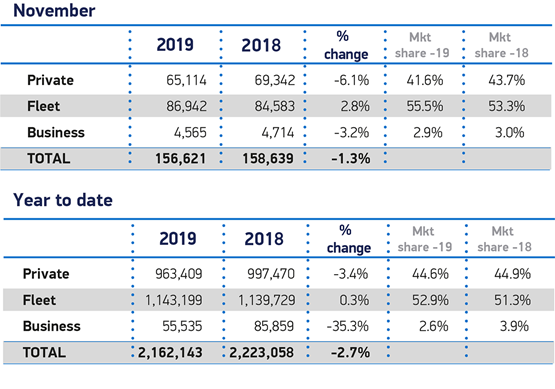 SMMT chief executive, Mike Hawes, said: "These are challenging times for the UK new car market, with another fall in November reflecting the current climate of uncertainty.
"It's good news, however, to see registrations of electrified cars surging again, and 2020 will see manufacturers introduce plenty of new, exciting models to give buyers even more choice.
"Nevertheless, there is still a long way to go for these vehicles to become mainstream and, to grow uptake further, we need fiscal incentives, investment in charging infrastructure and a more confident consumer."
Private registrations declined by 6.1% during November, while the business market declined 3.2%, according to the SMMT's data.
Only fleet registrations rallied, with a rise of 2.8% as alternative fuel vehicle (AFV) registrations reached a record market share for a second consecutive month.
More than one in 10 cars joining UK roads last month was either hybrid, plug-in hybrid or pure electric – equivalent to 16,052 cars.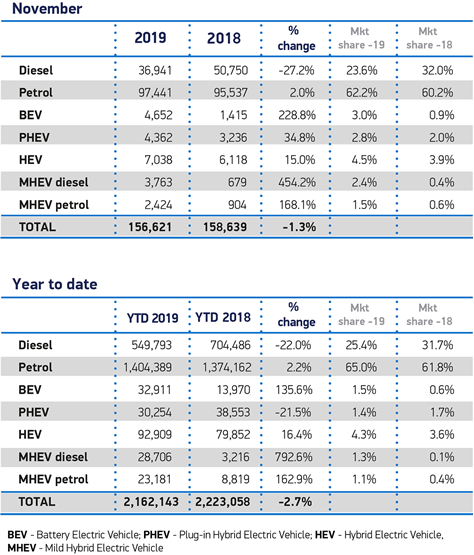 Demand for the latest battery electric vehicles (BEV) surged by 228.8%, with 4,652 registered, while the markets for plug-in hybrids and hybrids also rose by 34.8% and 15%, respectively, the SMMT said.
Elsewhere, petrol grew 2.0%, taking the lion's share of all registrations (62.2%), as diesel fell -27.2%. Year-to-date, the overall UK new car market is down -2.7%, with 2.2 million cars registered, in line with current industry forecasts.
National Franchised Dealers Association director, Sue Robinson, said that it was expected that new car sales would see a "modest decline in November reflecting consumer uncertainty in the run-up to a general election".
But she added: "It is positive to see the upward trend facing the electric vehicle market with pure EVs taking a market share of 3% in November.
"Sales of EVs are likely to keep growing as market conditions continue to improve, customers' knowledge and appetite grow, and franchised retailers are enabled to meet the rising demand for EVs.
"Retailers are working extremely hard to provide their customers with the best possible experience in the showroom as well as online and help them select the car that best suits driving habits.
"NFDA hopes a clear election result will end the prolonged political confusion and stimulate the retail automotive industry".
Michael Woodward, UK automotive lead at Deloitte, also drew positives from the increased market share of AFVs.
He said: "After significant investment in the technology by manufacturers, the growth of BEVs is welcomed in the industry.
"Demand for BEVs is also expected to accelerate when 0% company car tax rates on zero-emission vehicles are likely introduced in April 2020.
"However, this level of growth presents a number of challenges as we enter a new decade.
"Not only is significant investment required in the UKs charging infrastructure, but as BEVs continue to grow, the long term implications for tax revenues are unclear."
> Manufacturer new car registration data