A seasonal downturn in used car values as the holidays failed to impact sales at BCA and strong demand delivered a "strong month for used car activity".
According to the latest BCA Pulse report average used car values the remarketing specialist's UK-wide network of auction houses returned to normal levels in October after average prices reached their highest ever level (£9,881) a month earlier.
Used car values averaged £9,648 at BCA in October, but BCA insisted that demand remained unseasonably strong during a period usually impacted by rising stock levels post plate change and the October half-term breaks.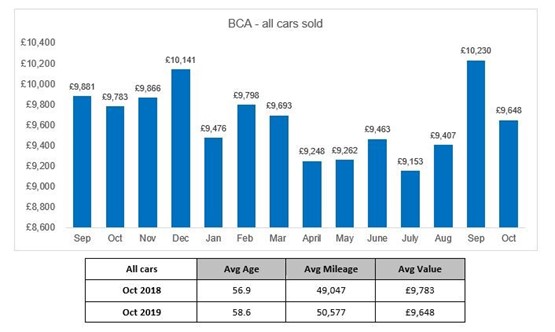 Stuart Pearson, BCA chief operating officer for UK Remarketing, said: "October was another strong month for used car activity at BCA, with robust demand seen across all market segments.
"At a time when rising inventory from the September plate-change, along with a spread of October half-term holidays can impact the supply and demand balance, the used car sector remained resilient across all of BCA's channel offerings."
Used car values may have been positively affected by consumer uncertainty – deterring people from committing to more expensive new car purchases – and a more limited influx of part exchange stock than has been the case in previous years.
As Society of Motor Manufacturers and Traders (SMMT) data revealed, September's key 'plate change month delivered some 343,255 registrations, just 1.3% up on a WLTP-impacted 2018 market.
Pearson said that used car demand was "currently very good for this time of year", adding that prices are "more stable than traditionally seen as we approach the Christmas period".
He added: "This is giving dealers confidence and in expectation of continuing high levels of used vehicle activity, BCA will be holding a series of special sales across the period between Christmas and the New Year period to support our customers."
The BCA Pulse report revealed that fleet and lease values averaged £12,113 at BCA in October – the second highest average value on record for fleet stock.
Year-on-year values were up by £211 (1.8%) despite both average age and mileage rising.
The retained value against original MRP (Manufacturers Retail Price), meanwhile, averaged 42.8% – down by 2.5ppts, year-on-year.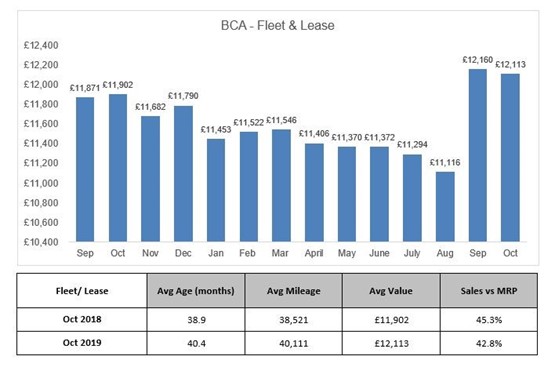 Dealer part-exchange values fell back slightly during October 2019, according to BCA Pulse, down by just £23 over the month at £5,180.
Average values for part-exchange vehicles were down by £155 (2.9%) compared to the same month last year with stock showing a similar profile of age and mileage.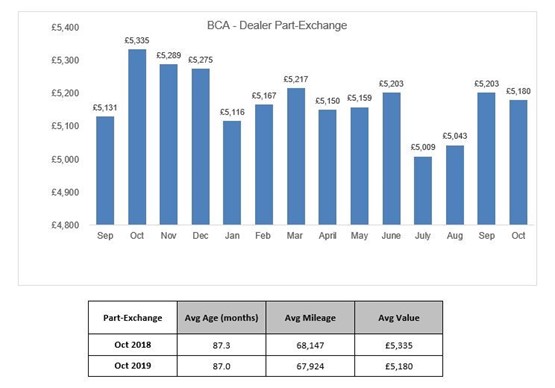 Values for nearly-new vehicles at BCA fell from last month's all time record high to £25,029, the second highest value recorded in 2019.
Year-on-year values were up by £1,341 (5.7%). Model mix has a significant effect in this sector, with brand specific winners and losers.